Final 'Fortnite' Season 5 Teaser Probably Just Confirmed Parallel Dimensions
'Fortnite' just went 'Rick and Morty' AF.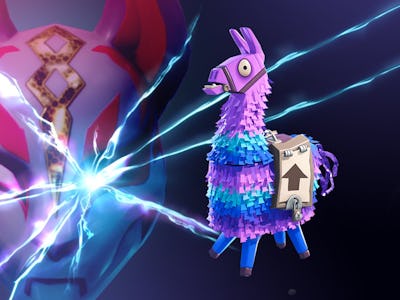 Epic Games
That latest teaser for Fortnite: Battle Royale's Season 5 pretty much confirms that the upcoming season will focus on parallel dimensions of some kind. That's right: Fortnite just went Rick and Morty AF.
Epic Games released the newest teaser across all its Fortnite platforms and via Twitter on Wednesday morning. Unlike previous, more cryptic teasers this week that featured a cat-fox mask and a Viking axe, the latest features the same dark background with the space-time ruptures that emerged after the rocket launch with the phrase "Worlds Collide."
Up until now, the going theory has been that Season 5 would be all about time travel, but if worlds are colliding then inter-dimensional travel is a far more likely explanation.
Since the rocket launch caused the huge rift over the Fortnite: Battle Royale island, other smaller rifts have been transporting random items seemingly displaced in time to places across the map. There was an old-timey stagecoach, the anchor of what could be a pirate ship, and even dinosaur bones, all of which implied time travel.
But when the Durr Burger sign wound up in real-life California as part of the ongoing event, along with a bunch of llama piñatas around the world, we all probably should've realized this has been about interdimensional travel all along. Our Earth is probably just one of many realities in the Fortnite multiverse.
Maybe there's a race of cat humanoids in an alternate Fortnite dimension, and that mask is just a face. Maybe there's an alternate reality in which the Vikings colonized the entire world. For all we know, the worlds that are colliding could be different dimensions that also take place in different time periods.
So what'll actually happen on Thursday, July 12 at 4 a.m. when Season 5 starts?
Perhaps the huge rift over the island will open up and fuse together tons of alternate realities. Maybe portions of the island will be overrun by dinosaurs while others might be reminiscent of ancient Egypt. The only way to find out is to play Fortnite: Battle Royale when Season 5 actually begins.