Everything You Need to Do Before 'Fortnite' Season 5 Officially Begins
There's still time to unlock some Season 4 skins.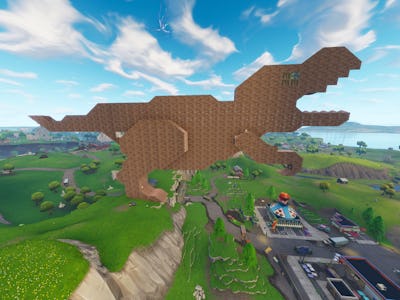 Reddit
The rocket launched, the sky cracked open, and a giant burger leaked out of Fortnite: Battle Royale and into the real world. That can only mean one thing: It's almost time for Season 5. But what time exactly does Fortnite Season 5 start and how can you prepare for the update's release? Here's what you need to know.
What Time Does Fortnite Season 5 Start?
Fortnite's Season 5 update hits on Thursday, July 12, at 4:00 a.m Eastern, but don't expect to start playing at exactly that time. 4 a.m. is when the downtime typically begins each week for the latest update, and that usually means an hour or two of waiting before you can log back in and play. Considering how big this update is expected to be, it's probably safe to assume that it will take at least two hours to download and install.
So make sure your PS4, Xbox One, Nintendo Switch, gaming PC, smartphone, or whatever else you use to play Fortnite is ready to go and set to install updates automatically. Then feel free to sleep in until around 6 a.m. Eastern — or just stay up all night playing Fortnite Season 4.
Get Some Last Minute Season 4 Battle Stars
In the meantime, you still have a little less than a day to unlock any Battle Pass items you may not have gotten to already. Here's a guide to four Fortnite Season 4 challenges you might have missed. You could also get a squad together and lower the disco ball by Loot Lake, search for rubber duckies, or finally get around to dancing in front of seven cameras.
Ditch Your PlayStation Account
Fortnite developer Epic Games has been pretty great about promoting cross-platform gaming. You can even play on your Nintendo Switch and join up with friends on Xbox One, but Sony isn't having any of it. Not only did the Japanese company black cross-platform play for PlayStation 4, it also made it impossible for people who started playing on PS4 to port over their accounts onto other consoles like the Switch.
So with Season 5 on the horizon, if you have a Nintendo Switch it may be time to start fresh with a new account. Sure, you'll lose access to all the cool skins and emotes you unlocked in Season 4 and earlier, but at least you'll be able to play on the go without switching between different accounts.
Call in Sick
Finally, if you're a diehard Fortnite fan you may want to consider taking the day off from work or school so you can spend the entire day exploring the Season 5 map. But if that's not possible you can follow along with Inverse by watching our Twitch livestream right here.