The Biggest 'Fortnite' In-Game Event Ever is Happening This Weekend
Blink and you may miss it.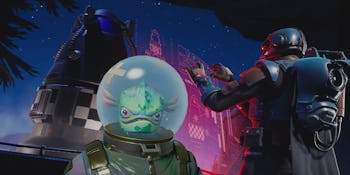 Epic Games
It could be the end of the Fortnite: Battle Royale world as we know it. The much-anticipated rocket launch is finally happening this weekend.
Developer Epic Games made it official on Friday after weeks of teasing, and the company did so by adding an announcement to the "New Updates" screen that pops-up every time players log in. The announcement urges players to "Get in-match on Saturday by 10:30am PT / 1:30pm ET / 7:30pm CET and look to the sky!"
Unlike previous events like the frequent comet strikes, "It only happens once!" This time coincides with a new countdown timer that's currently active on television screens in every instance of Fortnite: Battle Royale as of this writing.
Accompanying this announcement is a graphic featuring the skull logo that represents the villainous group of characters that emerged as part of Season 4's superhero theme. So all signs do indeed point to a rocket launch, but things get even weirder after that.
The folks at Fortnite Insider noticed on Thursday that there was a set of rocket thrusters that crashed in Anarchy Acres. Supposedly, the debris was removed very quickly from the game, which indicates that it was prematurely activated. Anarchy Acres is the northernmost named location in the central area of the island, so it's unclear based on this evidence exactly where the rocket might strike.
But there are clues.
According to frequent Fortnite data-miners @TwoEpicBuddies, the version 4.5 update to the game added secret audio files indicating four specific locations on the map. One corresponds to the location of the massive kaiju footprint on the western side of the map (not far from the supervillain lair, by the way). The other three represent the entirety of Moisty Mire.
The prevailing theory is that the rocket will strike the swampy area on the southeast corner of the island, called Moisty Mire. This would lead into a new limited-time mode focusing on something called Leviathan, a massive creature or robot that'll stomp across the island.
What's truly strange, however, is that "Leviathan" is also the name given to the alien fish that's in a human-shaped diver's suit. So what's really going on here?
All of this hype is remarkably similar to the end of Season 3 back in April when everyone braced for one or more comet impacts, and the map was changed forever. Is it leading to an apocalypse-themed Season 5? Nuclear fallout? Kaijus?
There's no telling exactly what'll happen on Saturday when the rocket launches or how it'll change things for the upcoming season.
According to a Reddit post from Epic Games, Fortnite: Battle Royale Season 5 kicks off on July 12, so there isn't much time left before we know for sure.