'Fortnite' Rocket Failed to Destroy Tilted Towers But Cracked the Sky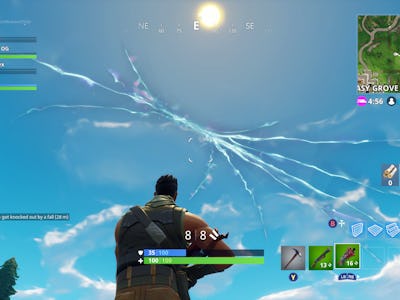 At 1:30 p.m. Eastern, Epic Games pulled off an "epic" one-time event in Fortnite: Battle Royale. Now the question is what does it all mean.
There's a giant crack in the sky of Fortnite thanks to a rocket fired off from the villain's lair. Fortnite: Battle Royale games went dark and a rocket from the villain's lair on the west side of the island launched into the sky. Soon after the launch, it came back down to the ground toward Tilted Towers, but was then teleported to another part of the island. It then created a tear to teleport to another area and eventually flew back into the sky leaving what looks like a giant crack. If that description is confusing to read then it's just as confusing to watch.
The big question is finding out what exactly happened. The Season 5 antagonist launched a rocket and tried to destroy Tilted Towers, but someone may have intervened resulting in the rocket teleporting. Who caused this to happen and who saved Tilted Towers?
Parts of the rocket fell on different parts of the island offering some extra insight into what happened. There's also a question of what happened at the villain's lair. Does the crack in the sky mean the island is encased in a dome? With all these questions, Epic continues to keep a tight lip as it did not provide any updates during the event.
Next for Fortnite: Battle Royale players is the update coming Tuesday. Considering what happened at the rocket launch, expect some additional changes as Season 4 comes to an end.
With the rocket launch event over, Epic can finally get out the Playgrounds Limited Time Mode. Multiple delays resulted in the mode launching on Wednesday, but then removed right away due to so many players logging on at the same time. The developer said it will bring Playground back soon.