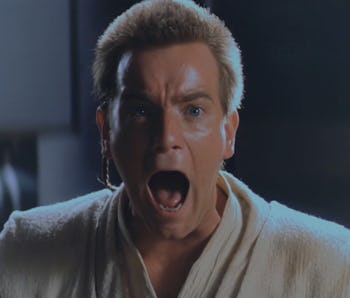 Entertainment
'Star Wars' Spin-Offs Reportedly on Hold Due to 'Solo' Flopping
Lucasfilm
There's been a great disturbance in the Force, because now it looks like we might not get the long-rumored Obi-Wan Kenobi movie.
On Wednesday, Collider revealed that inside sources say that Lucasfilm has halted plans for more Star Wars spin-off movies to refocus on Episode IX and the future trilogy. The lukewarm box office results from Solo: A Star Wars Story is cited as the primary reason, even though the film grossed $339.5 million worldwide.
This means that the previously announced Boba Fett movie from Logan director James Mangold and the never-confirmed Obi-Wan Kenobi film are reportedly on hold, indefinitely. Pretty much anything that would've had "A Star Wars Story" might never happen now, all because audiences didn't like Solo as much as they should have.
Just days ago, Star Wars voice actor Tom Kane claimed to an audience at All-Star Comic-Con in Tyson, Virginia that there were nine Star Wars movies currently in development. Now, we're probably looking at less than half that number.
Previous rumors suggested that spin-offs focusing on Yoda and Jabba the Hutt were also in the works.
So what Star Wars movies are still happening?
The still-untitled Star Wars: Episode IX from J. J. Abrams is still definitely happening, and it will wrap up the story of the Finn, Rey, and Poe fighting for the Resistance against Kylo Ren and his First Order. That's scheduled for December 20, 2019. It will probably be awesome.
The Last Jedi director Rian Johnson is running the show on a new trilogy of Star Wars films not related to the "episodic Skywalker saga." These will probably be awesome if you liked The Last Jedi.
There's also another spate of Star Wars movies in development from Game of Thrones showrunners David Benioff and D.B. Weiss. Whereas Lucasfilm confirmed that Johnson was getting a trilogy, there's no official word on how many films Benioff and Weiss will be in charge of other than the use of plural language. It could be only two, or it could be more.
So that's a minimum of six Star Wars movies in the works, which still makes for a full calendar across the next decade, especially when you remember Jon Favreau's TV show and an anime-inspired series scheduled for Disney XD.
It's important to note that the Star Wars Story spin-offs haven't been canceled, just reportedly put on hold. Lucasfilm hasn't even officially confirmed that there has been any change of plans.
Still, at this point, things sure don't look great for a Solo sequel.