'Star Wars' Is Getting Its First Anime, And It Already Looks Like Miyazaki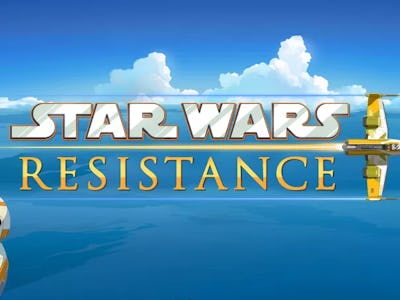 Lucasfilm
It is well-known how much George Lucas infused Japanese cinema into 1977's Star Wars. But a new animated series will complete the circle, as a Star Wars "anime-inspired" series will premiere on the Disney Channel this fall and will continue to air on Disney XD.
On Thursday, Lucasfilm announced Star Wars Resistance, a new animated series following the conclusion of Star Wars Rebels earlier this year. Set before 2015's The Force Awakens, Star Wars Resistance will star a new character, Kazuda Xiono, a pilot recruited by General Leia Organa to join the Resistance. The era between Return of the Jedi and Force Awakens is Star Wars's biggest unexplored time period, so this show could be quite revealing for fans. The series will have familiar characters, with Lucasfilm confirming Oscar Isaac and Gwendoline Christie reprising their roles as Poe Dameron and Captain Phasma respectively.
Veteran Star Wars producer Dave Filoni, who previously produced Star Wars: The Clone Wars and Star Wars Rebels, will spearhead Star Wars Resistance as showrunner. Joining him are Rebels producers Athena Portillo, Justin Ridge, and Teenage Mutant Ninja Turtles producer Brandon Auman.
In a statement, Filoni called Resistance "anime-inspired," which would make it the first in the franchise to really evoke the medium.
"The idea for Star Wars Resistance came out of my interest in World War II aircraft and fighter pilots. My grandfather was a pilot and my uncle flew and restored planes, so that's been a big influence on me," Filoni said. "There's a long history of high-speed racing in Star Wars, and I think we've captured that sense of excitement in an anime-inspired style, which is something the entire team has been wanting to do for a long time."
Only one piece of promotional art, with BB-8 and an X-Wing, teases what Resistance may look like. It has a bright color palette that definitely evokes Hayao Miyazaki, and if there's any anime style to ape from, it's Miyazaki. Outside of fan works, Resistance will be the first "anime" in the Star Wars franchise; the acclaimed 2003 anthology Star Wars: Clone Wars by Genndy Tartakovsky had anime influences, but it wasn't "anime" in the strictest sense. (Though, depending on your definition of anime, this might technically not make the cut either).
It's not known who the actor for Kazuda will be, but Lucasfilm included the following names attached to star: Christopher Sean, Suzie McGrath, Scott Lawrence, Myrna Velasco, Josh Brener, Donald Faison ("Turk" from Scrubs), and Rachel Butera. Also in the cast are SNL alum Bobby Moynihan and Community star Jim Rash, who won an Oscar for his screenplay The Descendants.
Star Wars Resistance will premiere on the Disney Channel this fall. It will continue to air on Disney XD afterward.