Here's the Probable 'Fortnite' Season 4 Release Time
The date's been made official, but when does it actually happen?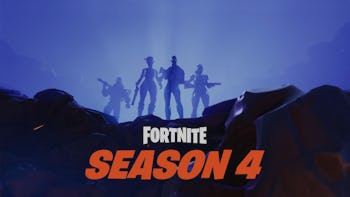 Epic Games
With the end of Fortnite: Battle Royale's Season 3 only hours away, tons of fans are left wondering exactly when Season 4 kicks off. Over the last few days, developer Epic Games has seemingly been teasing a superhero theme for the new season somehow linked to one or more meteor strikes on the map, but when can we expect all of this to happen?
Season 3 was originally scheduled to end Monday, April 30, but there's now an in-game countdown for Season 3's end in the Battle Pass screen which confirms that Season 3 actually ends at 4 a.m. Eastern on Tuesday, May 1. And on Monday morning, Epic Games confirmed in a tweet that Season 4 would indeed start on Tuesday. There's no official word regarding exactly when Season 4 will start, but the transition could very well be seamless. The tweet itself went out at precisely 10:15 a.m. Eastern, so could that be a clue that Season 4 starts at that time on Tuesday?
Check out "'Fortnite' Season 3 Ends Soon, So Get Ready for Season 4"
Until now, the many Season 4 teases merely said "coming soon," along with cryptic phrases like "brace for impact." Over the last few weeks, more and more meteors began streaming across the skies of Fortnite, and over the last few days they even began striking the island.
It's virtually impossible to tell right now how the increasing frequency of meteor strikes connects to the teased superhero theme for Season 4, but in the newest teaser image, it looks like the four "heroes" are emerging from some crater created by a meteor impact. Does that mean Tilted Towers will still get demolished, and some story-based explanation is involved?
We'll know for sure soon enough. The earliest that Season 4 could start is 4 a.m. Eastern on Tuesday, May 1, but it'll definitely be available in Fortnite: Battle Royale by the end of the day.
There's no better time to stock up on V-Bucks, because the Season 3 Premium Battle Pass cost 950 V-Bucks, or around $9.50. Rest assured, for any big fan of the game, purchasing one is totally worth it.