Superheroes Could Make Their Way Into 'Fortnite' Season 4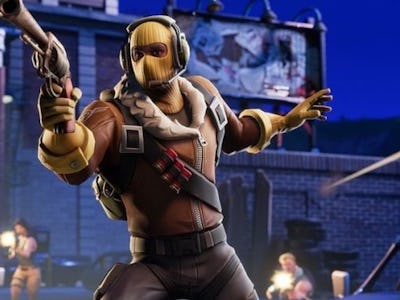 Epic Games
As Fortnite: Battle Royale's Season 4 gets closer and closer, developer Epic Games has seemingly teased the season's new theme: Superheroes.
Epic Games released a series of new images on Thursday and Friday both in-game and over social media for Season 4, and they feature some comet-like imagery with new characters in the background. They look like they could be a male supervillain and a female superhero akin to Wonder Woman. Could we get some kind of a story integrated into Battle Royale, or are these just themed character skins for the new season? Probably the latter, but it's still fun to imagine.
The male character looks like a very serious cyborg, or perhaps a human wearing some sort of cowl like The Flash or Batman. He's strange-looking enough that he could very well be an alien, especially because this whole thing is related to the comet/meteor that's been heading towards the island for weeks now. It makes for a compelling amount of synergy in the transition between the Space-themed Season 3 and what could be a galactic superhero theme in Season 4.
Here's Friday's new tease from the official Fortnite Twitter account featuring both characters:
This second poster came with the line "Fight with Honor," which sounds a lot like something a noble character like Wonder Woman might say, and we're led to believe that these words are hers considering this is that character's debut. The previous poster had a bit of a darker message, which could mean that the male character is indeed some kind of supervillain. "Battle. Adapt. Win." seems a bit harsh, don't you think?
By now, it looks like Season 4's theme of comets and superheroes seems all but certain. There's convincing evidence that the meteor is still coming to destroy Tilted Towers, but now it's starting to look like it might usher in a new age of heroes for the game. Could the meteor be some kind of spaceship that one of these new characters is riding to Earth?
We'll know soon enough, because Season 3 ends on April 30, with Season 4 starting soon thereafter.