'Fortnite' Season 3 Ends Soon, So Get Ready for Season 4
Time to finish out your Battle Pass.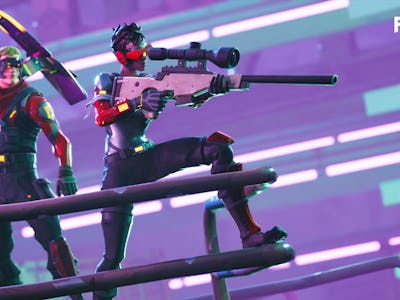 Epic Games
In a few short weeks, every Fortnite player's Season 3 Battle Pass will expire with the season's end, and everyone will have to buy a new one for Season 4. On the plus side, that means the game's developer, Epic Games, might be rolling out brand-new features and challenges to keep players enthralled.
So when exactly does Season 3 end? What can we expect from Season 4? Here are all the answers available right now.
Season 3 End Date and Time
Season 3 officially began on February 22, and we knew from an Epic Games employee posting on Reddit last month that it would last until April 30, which is only four days after when Week 10 challenges should start. That being said, you'll have an especially short amount of time to do those challenges, whatever they are.
The exact time the season ends remains unclear at this time, and they've been unpredictable in the past.
Season 4 Start Date and End Date
Epic Games hasn't formally announced exactly when Season 4 would start, but there was very little downtime between Season 2 and 3, so it's possible that Season 4 could kick off on Tuesday, May 1.
Season 2 ran from December 14 to February 21, leaving only a few hours for a new Fortnite update to hit the servers before Season 3 began, so that seems like the likely explanation for how the new transition will work out. Alternatively, Epic Games could wait to begin Season 4 when the routine weekly reset happens on Thursday, May 3 at 4 a.m. Eastern.
Seasons usually last almost two months, so it's likely that Season 3 could last through until the end of June.
Season 4 Theme
So far, each season's Battle Pass has had a theme to go along with the cosmetic items you could earn. Season 2 focused on the Medieval era, with one of the most coveted items being a Black Knight skin. Season 3 has mostly been about space, including a Space Shuttle glider and a few different astronaut suits. But what about Season 4? Fans have guessed everything from the colonial era to pirates, ancient Egypt, ninjas, dinosaurs, and aliens. Keep in mind that some data hacks hinted at a game mode called "Impact" in Season 4, which has led many players to theorize that there might be something related to comets in the new season.
What Else Is New with Season 4?
Consider that during Season 3 — as Fortnite's popularity grew exponentially — Epic Games rolled out tons of new challenges and skins, along with new weapons and items. Various limited-time game modes also filtered in and out of the game, so expect plenty of new and exciting things in the coming months.