'Fortnite' Debuts Dark Vanguard Skin and New Space Shuttle Gliders
Live out your space combat dreams.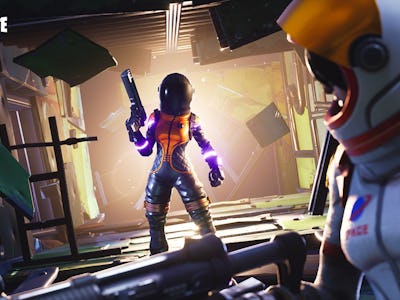 Twitter
Epic Games made bank on the recently released Raven skin for its game, Fortnite. There were so many transactions that it caused the store to crash. Hoping to replicate that success, the company has released a new skin and it's out of this world.
The Dark Vanguard Outfit is available for purchase in the Fortnite store for the next two days. Priced at 2,000 V-Bucks, or approximately $20, the new skin lets players run around killing others while dressed as an astronaut. Along with the skin is a new glider in the shape of a space shuttle for 1,200 V-Bucks, or $12.
Fortnite has been a big hit for Epic Games since its release last September. The free-to-play battle royale game mode pits 100 players against each other until one person is left standing. Although it plays similarly to its main rival, PlayerUnknown Battlegrounds (PUBG), Fortnite includes crafting in its game, which is also a bit faster and less realistic than PUBG.
February was a huge month for Epic Games, which earned $126 million for the month from Fornite micro-transactions. Players purchase the in-game currency, V-Bucks, for a variety of items such as character skins, melee weapons, and emotes. The recently released iOS version of the game already earned $15 million for the company.
Dark Vanguard will only be available for the next two days. Once it's gone, Epic Games could put it back in the store at a later date, as the company has done in the past. Some more capitalistic Fornite players have also taken to Ebay to sell their in-game loot for a little extra money.
Fortnite reached new heights on Twitch. In March, streamer Tyler "Ninja" Blevins had more than 600,000 people watching his stream. It helped that his Fortnite teammate was none other than Drake. Last week, the rapper Logic said he had better Fortnite skills than Drake during an appearance on Ellen.