'Fortnite' Player/Rapper Logic Just Savagely Dissed Drake's Gaming Skills
A huge diss might've just become the greatest challenge.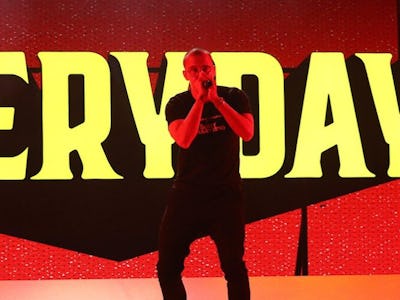 Ellentube
The rapper Logic just dissed Drake bigtime in the middle of a performance on Ellen by dissing Drake's Fortnite skills. On Monday's episode of Ellen, Logic performed a single off his new mixtape album Bobby Tarantino II, and in the middle of the song, he inserted a line calling Drake out in what's basically the most epic Fortnite challenge in history.
Drake broke records in March playing Fortnite with crazy-popular Twitch streamer Tyler "Ninja" Blevins as 635,000 concurrent viewers watched. By most accounts, Drake was pretty good. But after he finished a performance of "Everyday," Logic called Drake's skills into question by saying, "Tell that boy Drake he don't want it with me on Fortnite!" Never before has daytime television been used by a rapper to deliver such a precise diss in the realm of greater gaming culture, only proving how huge Fortnite has become. Check out Logic's performance on Ellen right here:
Logic has sort of become the master of attracting the attention of nerd culture on the internet. He had a guest-appearance on Rick and Morty in Season 3 and even borrowed Rick and Morty's voice actor (and the show's co-creator) Justin Roiland to voice the characters on the album itself. The same audio was used in video form to promote the album leading up to release. If anyone can command enough of nerd culture, it's Logic.
Drake does, of course, have more mainstream appeal than Logic, which only speaks to the fact that Fortnite has seized such a huge portion of our zeitgeist and become such a sensation. Fortnite takes the battle royale format of something like The Hunger Games and transforms it into a chaotic and addictive team-based third-person shooter. The concept is basically stolen from PlayerUnknown's Battlegrounds, aka PUBG, and simplified a bit to make the whole thing more accessible.
When the inevitable showdown happens of Logic versus Drake in Fortnite, and they stream it all on Twitch, it'll bring in views in the hundreds of thousands.
If this doesn't finally make you try Fortnite on virtually any platform or console, including iOS, for free, then I don't know what will.