10 Science Tweets That Defined This Weird, Bad, But Often Hopeful Year
The Science March, the eclipse, Tim Allen, and all points in between.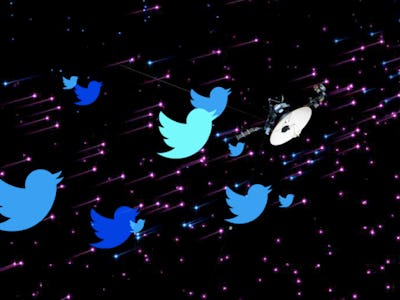 Getty Images / Monica Schipper
It's been a heck of a year, and for anyone who uses Twitter regularly, it's all played out in a never-ending stream of nightmares, summed up in 180 (or sometimes 280) characters or less. The Trump administration's role in shaping science policy was at the forefront of science Twitter discussions, usually in a bad way, but so was the show-stopping solar eclipse in July, and that was pretty dang cool. So, it's been a mixed bag.
Below is Inverse's list of science tweets that summed up the weird, bad, and optimistic moments of 2017, presented in chronological order:
1. Science Twitter goes rogue.
Starting in January, right around President Donald Trump's inauguration, science Twitter went rogue, with several verified accounts belonging to government offices throwing shade at the president. It was a more innocent time.
2. France vows to "Make Our Planet Great Again."
Following the inauguration of President Donald Trump, scientists in the United States and around the world started getting worried, as he had already brought some seriously anti-science people on board. French President Emmanuel Macron wasted no time, inviting U.S. scientists to come work in France and "Make Our Planet Great Again."
3. The March for Science.
In April, thousands of people gathered in Washington, D.C., and cities all over the United States to protest government policies that are hostile to science. Despite internal controversy about diversity, the marches went off as planned, drawing protestors who were pissed off, self-congratulatory, and everything in between.
4. Trump ditches the Paris Accord.
For those of you who don't remember how President Trump's June announcement went, here's a quick reminder: He announced that the United States would withdraw from the Paris Agreement on climate, the international policy to help slow the pace of climate change. In addition to the fact that the president's speech was full of scientific inaccuracies, this decision was a bad one for science. Scientists have shown repeatedly that the effects of climate change will make life worse in the near future.
5. Tim Allen gets everything wrong about evolution.
In a glorious self-own, actor Tim Allen took to Twitter late at night to ask a silly question that showed he has no idea how evolution works. "It is a common misconception that humans evolved from apes. Instead, humans and modern apes, like bonobos and chimpanzees, share a common ancestor," reported Inverse at the time of the incident.
6. Humans get owned by the solar eclipse.
People all over the United States freaked the fuck out for a solid month over the Great American Eclipse, and with good reason. It was a total solar eclipse whose totality passed over the width of the continental U.S. And even though some people had some bad luck, it was really cool and a nice break from the constant onslaught of bad news.
7. Hurricane Harvey becomes so much more than a storm.
August represented the peak of a severe hurricane season in the United States and the Caribbean islands, and while many people lost their homes, perhaps one of the most nightmareish images came from Texas. In the floods that followed Harvey, residents of Texas witnessed massive rafts of fire ants. The already venomous ants, Inverse reported then, are even more venomous during this rafting event.
8. Cassini out.
In September, NASA's Cassini orbiter plunged into Saturn, completing its nearly 20 years of service. It was a bittersweet moment for space science, as the craft kept transmitting data until the end. And as with any ending, the scientists involved were left wondering what they could have done differently.
9. Elon Musk chats with the Flat Earth Society.
2017 has been a weird-ass year, so honestly, when Elon Musk got into it with the Flat Earth Society on Twitter, was anyone surprised? That being said, it was, uh, pretty weird.
10. Neil deGrasse Tyson continues to irritate literally everyone.
Astrophysicist Neil deGrasse Tyson is a polarizing figure. As a science popularizer, he's inspired the public to take interest in space, and he's publicly and hilariously feuded with science deniers. But he also tends to "well, actually" things to death, which is why we'll cap our 2017 Twitter wrap-up list with this gem, in which user Jed Oliver asks Tyson to please stay in his lane and not correct a freaking poem.