'Rick and Morty' Showed Up At the March for Science
"Sometimes science is more art than science."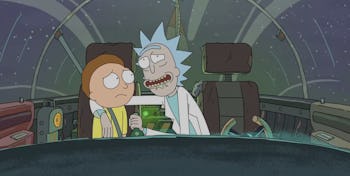 Fans waiting for Rick and Morty Season 3 to release this summer got a preview of the infamous scientist and his grandson at the March for Science on Saturday. At the rally in New York City, the wisdom of Rick, his no-bullshit stare, and the demands of the Cromulons were all prominently featured on signs hoisted by science advocates making their way down Central Park West. The march was a combination of a protest and a party, something that the hard-drinking Rick probably could get down with.
The fictional Rick Sanchez, anarchic and fervently dedicated to the pursuit of scientific understanding above all else, is considered by some cultural commentators as "the ideal scientist." While he may be more selfish and less dedicated to serving the greater good, the character spits out science truth bombs that obviously resonate with real-life defenders of science. In the episode "Rick Potion #9," he advises, "Break the cycle, Morty. Rise above. Focus on the science." At the March for Science, focusing on the science was the ultimate goal as well.
See also: When is Rick and Morty Coming to Netflix?
Here are the eight best Rick and Morty call-outs Inverse saw at the March for Science:
8. A Feedback Loop of Uncertainty
Rick's look of "Can you believe I'm experiencing this bullshit?" embodied the emotions of many of the participants at the march, who think that believing in science is the obvious thing to do.
7. Science Can Be a Messy Process
This line also comes from "Rick Portion #9". Rick gives Morty this advice after turning much of their town into human-sized praying mantises, proving that sometimes with science you don't have to get it right the first time.
6. That's Rick-Diculous
Rick looks up at Trump International Hotel and Tower in New York City. President Donald Trump's first budget proposed numerous cuts to institutions that support scientific and medical research.
5. The M-m-m-march for Sci-BELCH-ence
Rick and Morty covered numerous scientific topics over its first two seasons, including Heisenberg's Uncertainty Principle, the Simulated Universe Theory, and dark matter.
4. "Rise Above"
"I hate to break it to you, but what people call 'love' is just a chemical reaction that compels animals to breed," Rick advises Morty in Season 1. "Break the cycle, Morty. Rise above. Focus on the science."
3. Aw Geez, Rick
Ideally, Morty would be jazzed about being at the March for Science.
2. "Morty, I've got a lot of enemies in the universe that consider my genius a threat."
Rick joined genius nerd titans like Dexter, the Brain, Bruce Banner, and Walter White at the March for Science in New York.
1. "Show Me What You Got"
In the episode "Get Schwifty," giant disembodied head aliens called Cromulons demand to hear the best musical talents of the universe with a simple command: "Show me what you got." This science advocate wants purveyors of "alternative facts" to show them the evidence behind their claims. Show me what you got, house Republicans!