When Is 'Rick and Morty' Coming to Netflix?
It's already there in C-137, but it's hard to tell for your squanch-ass universe.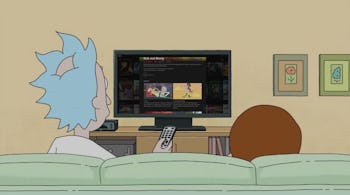 Folks love the zany sci-fi adventures of Rick Sanchez and his dimwitted, fretful grandson, and they'd love to see Adult Swim's Rick and Morty finally make its way onto everyone's go-to streaming service: Netflix. But co-creators Justin Roiland and Dan Harmon have an intimate relationship with Adult Swim, and as such, the network keeps a tight grip on the streaming rights to the show. Rick and Morty could easily be called Adult Swim's flagship program, as it undeniably has the widest appeal out of all of its programming.
The thing is, Hulu and Adult Swim's parent company, Turner Broadcasting, kicked off an extensive multi-year agreement back in April 2015 that made Hulu the "exclusive subscription video on-demand home" for a number of programs, Rick and Morty included. It's worth noting that as of this month (April 2017), we've officially reached the "multi-year" part of the agreement — but the length and specific terms of the contract have not been released, so that contract could extend for several more years.
That contract, however, only pertains to the distribution of Rick and Morty within the United States. The show is actually on Netflix — but only in certain countries, none of them being here in the U.S. If you live in New Zealand, Italy, Russia, Poland, Argentina, Japan, the UK, Luxembourg, Switzerland, or Belgium, then you're lucky enough to have Rick and Morty available on Netflix, but it might only be Season 1 in most cases.
You May Also Like:Watch This Fan-Made Family Guy and Rick and Morty CrossoverMcDonald's Shouldn't Bring Back Szechuan Sauce for the Mulan RemakeWhat the Title of Rick and Morty Season 3 Episode 2 Tells Us
The limited remaining options you have available to you are as follows:
You can watch all of Rick and Morty's first and second season with a paid Hulu subscription. Over on Adult Swim's website, you can watch a handful of episodes from each previous season for free. It's not a complete archive, so you won't find "Meeseeks and Destroy" or "Total Rickall" on there — for now, at least.
You can also purchase individual episodes or whole seasons via Amazon Video or for similar prices via iTunes. One day Rick and Morty find its way back onto Netflix, but don't expect it anytime soon.
For now, we're anxiously awaiting the return of Rick and Morty Season 3 this summer when "a pickle will rise."