Pickle Rick Reveals Himself in 'Rick and Morty' Season 3 Clip
"Turned myself into a pickle, Morty! Boom!"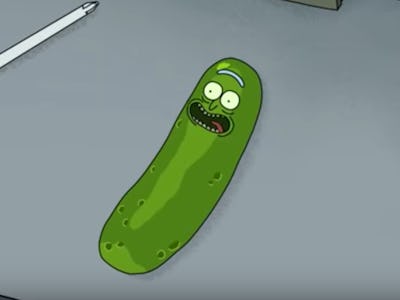 Joke's on you, because the Rick and Morty Season 3 premiere really did air on April Fool's Day — but you can still watch it here — and there's more new Season 3 footage too, including the debut of Pickle Rick. Yep, Rick Sanchez literally turned himself into a pickle after years of pickling his liver.
We knew a little bit of this already, to some extent. A very roughly sketched out Season 3 exclusive that debuted at San Diego Comic-Con 2016 showed Pickle Rick fending off an army of angry wild rats by sciencing up some mecha armor out of bug limbs, rat parts, and stray pieces of garbage. He even fuses his body with a rat brain to biologically enhance himself, all effectively making this clip into a dumpster version of the first Iron Man movie. (It goes without saying that there is absolutely no given explanation as to how or why Rick ended up in this pickle form). Watch that original Pickle Rick debut here:
But in the newest clip released by Adult Swim — fully voiced, animated, and colored — we see Pickle Rick reveal himself to Morty in the Smith family garage. "Big reveal!"
Morty looks pretty troubled by the development — enough that he won't actually touch the pickle — and he's sporting a dress shirt (still yellow) and tie with a sweater on top. But more importantly: Rick's a pickle! We'll probably still see Rick vs. Rats play out in some fashion in the episode, but how or why Rick decided to pickle himself is uncertain. But Pickle Rick is definitely coming. Watch the bright green official debut of Pickle Rick here:
You'll remember that Rick killed all his clones in "Big Trouble in Little Sanchez" after the traumatic Tiny Rick experience, but he was pretty disgusted with having to inhabit the bodies of alternate dimension Rick's in "The Rickshank Redemption." So Pickle Rick might be part of an attempt to get his original body back, which, by the way, is very much so dead after the Season 3 premiere. Whether or not Pickle Rick is a thinly veiled metaphor for alcoholism remains to be seen.
Watch the Rick and Morty Season 3 premiere "The Rickshank Redemption" here and look for the rest of Season 3 this summer.