Watch This Fan-Made 'Family Guy' and 'Rick and Morty' Crossover
"Nobody in the multiverse steals from me!"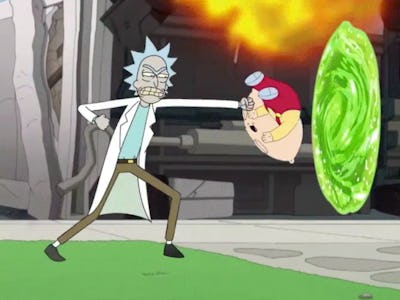 Rick and Morty have traveled to some pretty strange places during their many insane travels across the multiverse, but so far, they haven't ever been to Quahog, Rhode Island. At least, not officially, but one talented Redditor created a very impressive crossover with Family Guy where Rick Sanchez has it out with Stewie Griffin.
The scene, which you can check out below, reveals what happens after Stewie travels to Rick's universe to steal Kalaxian crystals. Rick comes hunting after them, shooting Brian with a laser gun after the dog foolishly tries to talk things out with Rick. Eventually, Rick settles the showdown with a clever use of his portal gun.
See also: When is Rick and Morty Coming to Netflix?
The crossover was the work of a redditor who goes by the name tinnerino, who explained in a post on Tuesday that he used Adobe Photoshop and Adobe After Effects to cut out scenes of Rick and insert them into a Family Guy scene.
If you're curious, the Family Guy footage comes from the 19th episode of the show's 10th season, "Mr. and Mrs. Stewie," while Rick hails from the series premiere and the first two episodes of the second season, with the last shot of Butthole World coming from Season 2, Episode 5.
"Cutting everything out is like one of the most tedious and boring things I can think off," tinnerino wrote on Reddit, but the results were worth it.
You'd be forgiven for thinking that the crossover might be real. Rick and Morty actually did crossover with another show from Fox's Sunday animation block. Rick and Morty literally crashed into The Simpsons for a dark couch gag that opened the 26th season finale.