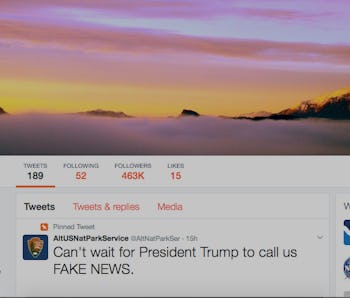 Science
The Government's Science Twitter Has Declared Mutiny Against Trump
A number of official accounts have defied Trump, and spawned some great unofficial resistance accounts.
@AltNatParkSer
The gag orders on government scientists have pushed a number of official Twitter accounts to go rogue, tweeting pro-science and anti-Trump information in defiance of the ban. Every day a new account has picked up the fight, from the Badlands official Twitter on Tuesday to the Death Valley account Wednesday morning. It's clear that they feel a sense of urgency in defending science from the administration.
The Trump administration has placed gag orders on government scientists, and researchers haven't taken kindly to what they see as at best censorship and at worst, a dangerous muffling of science. And each day this week, science has fought back: From the in-your-face climate change data the Badlands official twitter put out on Tuesday to points on the history of Japanese internment at Death Valley account Wednesday morning, #sciencetwitter is clearly feeling some urgency in protecting their field — normally a staunchly non-partisan one — from the administration.
A number of media organizations, including BuzzFeed and The Huffington Post have been leaked memos showing that since Donald Trump has been inaugurated, massive gag orders on the National Park Service, the Environmental Protection Agency, the Department of Health and Human Services, the Department of Agriculture, and the Department of Transportation have been placed. When agencies have acted against the ban — like the Badlands account — they've swiftly been forced to apologize.
Which means there's a sudden upswelling in alternative twitter accounts claiming to represent the scientific views within agencies. It's been most visible with the National Park Service. Although it is unclear if these accounts are run by actual park rangers starting the rebellion, or citizens fighting the good fight, they have produced some excellent tweets out of desperation to protect the climate and science.
The first sign of Trump's gag orders happened after the National Park Service went rogue and re-tweeted a side-by-side comparison of Trump's inauguration and Obama's, a tweet about the Stonewall Inn, and a tweet about how civil rights, climate change, and health care had been removed from the White House website. They have since been banned from tweeting.
The official Badlands twitter went next, sharing facts about climate change in defiance of the ban. The tweets have since been deleted, with National Park Service officials telling a reporter at Buzzfeed that they were made by a former employee they didn't know still had access. Sure.
In that case, there appear to be a lot of former employees with Twitter access, as the Death Valley official twitter has embraced the fight. Wednesday morning they tweeted about Japenese Internment during World War II, likely in direct response to rumors that Donald Trump is working to sign a ban on Muslim immigration today.
The account tweeted "During WWII Death Valley hosted 65 endangered internees after the #Manzanar Riot. #JapaneseAmericanInternment," at 9 a.m. on January 25.
This was followed by two captioned pictures of Togo Tanaka, saying "We want the opportunity they have to prove their loyalty. We are asked to accept a denial of that privilege in the name of patriotism."
And "Togo Tanaka: interned at Manzanar and Cow Creek (Death Valley) during WWII #JapaneseAmericanInternment."
As the official accounts have been stripped of the ability to tweet, unofficial twitters have embraced their ideals and continued the fight for science. Several alternate Badlands twitters popped up Tuesday night. BadHombreLands NPS has been getting some good jabs in about the gag order.
And BadIands NPS (notice the capital I) has been even more biting towards the Trump administration.
But the AltUSNatParkService account has been leading the charge to maintain the work of the National Parks Twitter. Its bio reads "The Unofficial 'Resistance' team of U.S. National Park Service. Not taxpayer subsidized! Come for rugged scenery, fossil beds, 89 million acres of landscape." We aren't sure who's behind it, but they say they are in Washington and their mission is clearly to fight for the parks and against the Trump administration.
And they've taken the words of the greatest fictional U.S. president to heart:
And it hasn't just been the National Parks. The AltEPA twitter hasn't been as popular as the rogue rangers, but whoever is running it is going hard at Donald Trump. They have been particularly upset about the freeze on grants and contracts, and have been sharing information on climate change.
Inverse has reached out to the alternate NPS twitters and to the Death Valley account for comment. Although AltNationalParkService has not replied directly, they recently tweeted about the media attention and requests for information, asking reporters to be gentle.
If they do identify themselves we will update this story. Until then, let's just enjoy the continued resistance of the National Park Service and other government scientists.