Cassini's Last View of Saturn and Its Rings Will Make You Emotional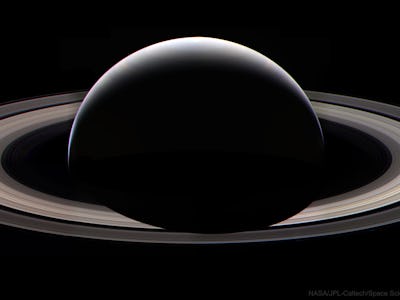 NASA/JPL-Caltech/Space Science Institute/Mindaugas Macijauskas
It's been almost two weeks since NASA's Cassini spacecraft plunged itself into Saturn, becoming one with the longtime object of its fascination. While that chapter of Cassini's mission has closed, the spacecraft left behind volumes of photos to inspire and evoke new questions, including a spellbinding final portrait of Saturn and its rings.
The image — featured Tuesday on NASA's Astronomy Picture of the Day (APOD) — is actually a composite of 36 photos taken on September 12th, fastidiously rearranged by citizen scientist Mindaugas Macijauskas. The result shows Saturn in its most hauntingly beautiful form, as our Sun illuminates the planet's northern hemisphere from outside the frame. According to NASA, this shadow position "cannot be imaged from Earth" and we won't see it again until another spacecraft visits Saturn.
Feel free to drink it all in:
While NASA hasn't released any formal plans for another trip to the gas giant, scientists — including Cassini project manager Earl Maize — are already itching to return. Some former Cassini team members want NASA's next sojourn in the Saturnian system to be a dedicated hunt for alien life, which would seriously up the ante on an already incredible voyage.
"We left the world informed, but still wondering, and I couldn't ask for more," Maize said at a press conference on September 13, just before mission end. "We've got to go back — we know it."
If you liked this article, check out this video of what it looks like to land on an alien moon.