Here's Everything We Know About 'Justice League' So Far
DC has some high-flying hopes for its upcoming superhero extravaganza.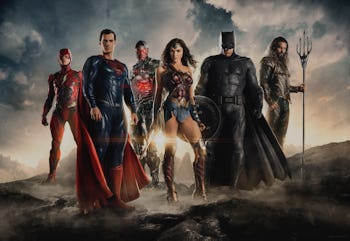 Warner Bros.
DC's iconic team of world-saving superheroes will finally unite for the first time on the big screen when Justice League premieres on November 17. Superman (Henry Cavill), Batman (Ben Affleck), Wonder Woman (Gal Gadot), Aquaman (Jason Momoa), the Flash (Ezra Miller), and Cyborg (Ray Fisher) will come together through the combined efforts of Bruce Wayne's Batman and Diana Prince's Wonder Woman to save the world from an impending evil.
Here are the most important things to know about Justice League. Spoilers, obviously, follow.
If the world has learned anything about Justice League, it's that the film will be jam-packed with DC comics lore and that it will act as the catalyst to set up a whole bunch of DC movie dominos for the near-ish future. Justice League will be DC's version of Marvel's The Avengers: (hopefully) well-balanced while managing to introduce a slew of iconic heroes to each other as they try their hardest to band together.
First of all, there seems to be a pretty solid plot
The film's official plot summary reads as follows:
Fueled by his restored faith in humanity and inspired by Superman's (Henry Cavill) selfless act, Bruce Wayne (Ben Affleck) enlists newfound ally Diana Prince to face an even greater threat. Together, Batman and Wonder Woman work quickly to recruit a team to stand against this newly awakened enemy. Despite the formation of an unprecedented league of heroes — Batman, Wonder Woman, Aquaman, Cyborg and The Flash — it may be too late to save the planet from an assault of catastrophic proportions.
Justice League is still directed by Zack Snyder
Dubbed the "Snyder-verse," DC's Justice League film franchise is being headed up by none other than Zack Snyder, the director behind Man of Steel and Batman v Superman, as well as a few other non-DC movies (300, Watchmen, Sucker Punch).
Superman will, uh, return
Despite Superman's demise at the end of BvS and his subsequent funeral, Snyder has promised that Henry Cavill's Clark Kent will play a large role in Justice League. Fans are pretty convinced, given the multiple appearances of an all-black Superman suit on set, that this storyline will follow the Death of Superman comic closely.
And the Man of Steel and the Dark Knight still aren't friends
Cavill revealed in December 2016 that Clark and Bruce would be disagreeing in the future over who should hold the League's leadership role, as is pretty classic for their characters.
DC is making an active effort to lighten things up
Ezra Miller's Barry Allen — the Flash — will, supposedly, play the role of the comedic relief, which will be a welcome change from BvS's sluggishly dark tone. Flash is the young, quippy member of the team — the obnoxious little brother who can hopefully add some levity. Hopefully.
"Mistakenly in the past I think the studio has said, 'Oh, DC films are gritty and dark, and that's what makes them different," Geoff Johns, DC Comics's chief creative officer, said in September 2016 of upcoming DC films. "That couldn't be more wrong. Even Batman has a glimmer of [optimism] in him. If he didn't think he'd make tomorrow better, he'd stop."
Look out for Steppenwolf
The infamous, classic DC baddie Steppenwolf will be portrayed by Ciaran Hinds and will be a motion-capture character a la his deleted scenes with Lex Luthor in BvS.
Also, be on the lookout for a Parademon scene with actual context, the Mother Boxes and the New Gods.
The Aquaman storyline will get a kickstart in Justice League
Willem Dafoe — who will be portraying the villainous, Atlantean extremist Vulko in 2018's Aquaman — will be making an appearance in Justice League as a way to more fully introduce Arthur Curry's story as more than just his being "that guy who can talk to fish."
Cyborg is still a bit of a mystery, and expect a Green Lantern
Precious little is known about Ray Fisher's Victor Stone/Cyborg and the role he'll play in Justice League. Warner Bros. has a Cyborg film planned for 2020. It's worth noting that DC's Cyborg comics during its Rebirth have categorized the hero's story as body horror, which we saw a bit of in Batman v Superman.
The Cyborg film will come around the same time as the Green Lantern movie, featuring Hal Jordan and John Stewart. But before the Snyderverse introduces its non-Ryan Reynolds Lantern, an alien Green Lantern is expected to make an appearance in Justice League, really setting up a tie-in for Green Lantern League members.
Batman is super into guns now
On top of a brand new tactical suit that really got DC fans riled up, Batman is way more into guns than he ever has been before on the big screen. It certainly follows the inherent violence and darkness of this latest round of DC movies and feels rather pointed, especially since at least one of the Dark Knight's guns is rocking a Joker sticker. There's a reason for that.
Batman is still obsessed with the Joker for killing a Robin
DC fans were treated to the sad knowledge that one of the Robins was killed by the Joker in the Snyderverse. While audiences still aren't sure which one, the addition of a Nightwing movie to the DC cinematic universe opens up the possibility for a lot of Robin-centric stories — including Red Hood, a storyline that involves Joker killing Jason Todd's Robin and him coming back as the villainous Red Hood.
But Batman doesn't, historically, let things go very easily. He's a bit of a grudge holder — and if there's one thing worthy of not being let go, it's the murder of one of his adopted kids.
Wonder Woman is not queer in this universe
Gadot confirmed a while back that Diana Prince's canon bisexuality will not be apparent in the Snyderverse.
"It's not something we've explored," Gadot told Variety in October 2016. "In this movie she does not experience any bisexual relationships. But it's not about that. She's a woman who loves people for who they are. She can be bisexual. She loves people for their hearts."
Justice League premieres in theaters November 17.
You May Also Like:
Zack Snyder Leaves 'Justice League' Following Family Tragedy
6 DC Spin-Off Movies That We Want to See ASAP
Harley Quinn's Obsessive Crush on Wonder Woman Intensifies