'Justice League' Might Get a Freaky Alien Green Lantern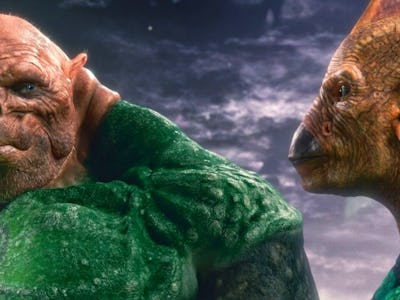 Warner Bros. DC Entertainment
DC and Warner Bros. appear to be trying to salvage the reputation of the Green Lantern Corps sooner than expected with a Green Lantern cameo in this year's Justice League. Green Lantern Corps, the announced film exploring Jordan and his fellow ring-bearers, isn't slated until 2020. The first Green Lantern to appear in the DC Extended Universe might not be the recognizable — or human — Hal Jordan, but rather a cameo from an alien Green Lantern with an unpronounceable name.
Umberto Gonzales, a reporter over at The Wrap, held a live Periscope over the weekend where he revealed that close sources in DC have confirmed a Green Lantern appearance in Justice League. Interestingly enough, when asked for the Green Lantern's name Gonzales conceded, "I forgot how to pronounce him. I forgot the name of the Green Lantern in Justice League, so we'll see… I'll give you a hint, it's a funny sounding name."
The fact that the rumored Green Lantern has a funny sounding name doesn't narrow the list of possible Green Lanterns by even a little bit, considering the Green Lantern Corps is a massive agency that spans across hundreds of galaxies and millions of alien planets. There have been plenty of famous Green Lanterns with alien names that could cameo in the film, from Katma Tui to Soranik Natu. Gonzales could have found any number of these Lanterns confusing.
This rumor comes on the heels of the announcement of a rebooted Green Lantern film releasing in 2020 starring Hal Jordan and John Stewart, two very popular, Earthling Green Lanterns. Using a script written by Dark Knight scribe David S. Goyer, the new Green Lantern reboot is described as a "Lethal Weapon in space" and was, until now, the first reports of the Green Lanterns appearing in the DCEU. With the news that a potentially alien Green Lantern appearing in the already full roster of the Justice League film, there's a chance this could be too much for the overstuffed film.
An alien Green Lantern could open up the DC Extended Universe — one that still feels a little undercooked, even after six years — to a whole new universe full of characters and antagonists that might clash with the mostly Earth-based DC films like Batman v Superman, Suicide Squad, and the upcoming Wonder Woman. If Justice League is being used as a launchpad for franchises like The Flash, Cyborg, and now the Green Lanterns, it could suffer the same overburdened issues that plagued Batman v Superman, which also introduced one too many characters into the DCEU.
Justice League hits theaters November 17, 2017.