Harley Quinn's Obsessive Crush on Wonder Woman Intensifies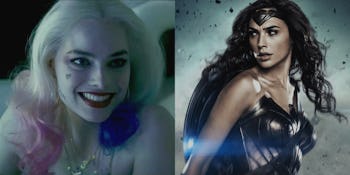 HelloGiggles/ScreenRant, Warner Bros.
Harley Quinn's had a crush on Wonder Woman for a while, so finally getting the chance to hug the Princess of the Amazons after saving her life is probably something she's going to remember for a while.
Justice League vs. Suicide Squad #4 has the League and the Squad teaming up against Max Lord's team of evil-doers, including the interdimensional Johnny Sorrow. It's common knowledge amongst most DC superheroes that looking at Sorrow's face when he pulls his mask away results in death. That is, it usually results in death.
When Wonder Woman gets cornered by Sorrow in this latest issue of Justice League vs. Suicide Squad, Harley Quinn steps in to save the day. She's warned off by Wonder Woman at first, but, upon viewing Sorrow's face in all its glory, Harley smiles, calls him "cute," and promises Wonder Woman that "once you've looked into one abyss you've seem 'em all," proving that Harley Quinn is never to be taken lightly.
Harley and Diana Prince's team-up to take down Sorrow prompts Harley to celebrate and insist they should be the new and improved Wonder Twins, the dynamic brother-and-sister duo who were original members of the Super Friends.
Considering that Harley has had a massive hero crush on the Princess of the Amazons for quite a while now (maybe her whole life), this has got to be a monumental occasion for her.
Harley's admitted in her solo adventures that she's got a literal closet shrine to Diana Prince's Wonder Woman in her house, including photos, shot glasses, costumes, and a piece of toast with Wonder Woman's face on it. So, getting the chance to work alongside Wonder Woman is obviously a dream come true.
Since Harley often has a problem figuring out her identity and what she wants to do with her life, a hero so noble and self-assured as Wonder Woman makes a wonderful role model. While Harley might be more violent and out-there than most superheroes, she's clearly trying to model herself off of the likes of Wonder Woman, believing that she's really not that different at the end of the day.
Justice League vs. Suicide Squad #4 is now available.
You May Also Like:
Zack Snyder Leaves 'Justice League' Following Family Tragedy
Here's Everything We Know About 'Justice League' So Far
Teen Titans Go's Cyborg Is Psyched to Be in 'Justice League'
6 DC Spin-Off Movies That We Want to See ASAP