Teen Titans Go's Cyborg Is Psyched to Be in 'Justice League'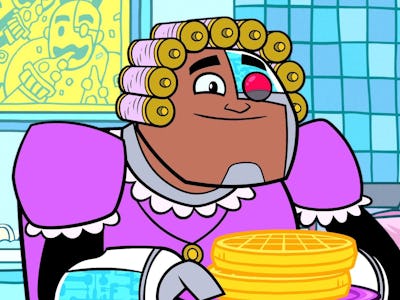 Warner Bros Animation
One of the best choices made during the DC universe relaunch was adding Cyborg to top-tier Justice League status as a founding member of the group.
Now, as the character is being prepared to appear in the DC Extended Universe, Cyborg will also appear in the upcoming Justice League Action animated series. The Cyborg who already saves the day in Teen Titans Go!, according to a Cartoon network ad, is pretty psyched about his new visibility.
Victor Stone, according to DC canon, was a high school football star when an accident at his father's lab critically wounded him. Using nano machines to rebuild his gravely injured son, Victor's dad transforms him into Cyborg, who would eventually go on to help form the Justice League.
As such, his appearance in Justice League Action, a new animated Justice League show on Cartoon Network, isn't a huge surprise. It was cute however to see the pre-existing Cyborg on the Cartoon Network acknowledge his presence on two separate DC Comics animated shows, indicating that he is now in the "big leagues,"
Teen Titans Go! itself is a spin-off of the popular, early 2000s animated show, Teen Titans, which starred heroes like Robin, Beast Boy, Starfire, Raven, and Cyborg in anime-inspired, surprisingly dramatic adventures. The show spawned a spiritual successor in Young Justice, but also the more humorous Teen Titans Go! which is currently one of Cartoon Network's most popular shows.
As Justice League Action ramps up however, be prepared to see a lot of Cyborg in the near future, both in his multiple animated appearances, as well as his upcoming live-action debut in 2017's Justice League from Zack Snyder.
You May Also Like:
Zack Snyder Leaves 'Justice League' Following Family Tragedy
6 DC Spin-Off Movies That We Want to See ASAP
Harley Quinn's Obsessive Crush on Wonder Woman Intensifies
Here's Everything We Know About 'Justice League' So Far