DC Comics Uses Animated Movies to Test Out New Heroes
There's another dimension to DC's animated movies.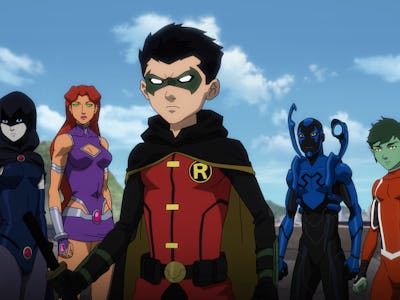 Warner Bros. Animation
Before DC evolves a comic book character into a big screen icon, there's a waystation that characters go to in order to test their mettle: feature-length animation. DC's direct-to-video movies like 2013's Justice League: The Flashpoint Paradox, the recent Justice League Dark, and the upcoming Teen Titans: The Judas Contract aren't just adaptations of popular storylines. They're also the R&D lab for DC to ensure its concepts aren't too weird for the non-comic book literate.
Warner Bros. Animation, headquartered in Burbank, California, is the home of all things cartoony for DC. Alongside Looney Tunes and Hanna-Barbera, the studio made its mark with the Emmy-winning Batman: The Animated Series in 1993 which evolved into an interconnected continuity dubbed the "Timmverse" for producer Bruce Timm. While DC keeps its superheroes kid-friendly on TV, things skew older on DVD and Blu-ray. Since the success of Superman: Doomsday in 2006 — based on 1992's The Death of Superman — animation has been a proving ground for almost all of DC's movies and TV shows.
"The animation we do is a testing ground to see if the public likes it or not," says veteran Animation Director Jay Oliva. At the New York premiere of his latest movie, Justice League Dark, based on Jeff Lemire's 2011 comic of the same name, Oliva said one of his previous films, Justice League: The Flashpoint Paradox, helped sell the Flash to the CW network.
Under orders from DC Comics head honcho Geoff Johns, Oliva made a digest edit of The Flashpoint Paradox to prove Barry Allen was a true leading-man superhero. Now, there's the The Flash TV series starring Grant Gustin and a live-action movie in the works. "When I did Flashpoint Paradox, I told my crew: If they ever do a live-action version, I want them to look at this movie."
Whether directly or indirectly, a handful of DC's animated films resemble live-action productions that came after. Green Lantern: First Flight from 2009 explored the origin story of Hal Jordan before 2011's Green Lantern with Ryan Reynolds. Also in 2009 was Wonder Woman, which set the blueprint for the Amazonian before Gal Gadot's debut in Batman v Superman. Speaking of, both of the biggest influences to Zack Snyder's crossover brawl — The Dark Knight Returns by Frank Miller and The Death of Superman by Dan Jurgens — received animated versions before the 2016 movie. In 2013, Justice League: War retold the New 52 origin of the Justice League. In November, Snyder's Justice League hits theaters.
Not every animated film works towards a live-action movie. Some are made just because fans are eager to relive unforgettable storylines, like in last year's Batman: The Killing Joke, which adapted Alan Moore's infamous graphic novel from 1988. Other films just fit the shape of this specific continuity, like Justice League vs. Teen Titans in which the Justice League battle their younger colleagues. There are no known plans for a Teen Titans movie in the DC Extended Universe, though Deathstroke — a villain in The Judas Contract — will be in The Batman.
But Oliva has the same hopes from The Flashpoint Paradox for Justice League Dark, and he confirmed the live-action film is still under development from Doug Liman (Edge of Tomorrow). "I'm hoping I get to work with Doug Liman and they'll look at my film and take it to the twentieth level," he said. "Because my budgets are nothing compared to theirs."
James Tucker, the lead producer for DC's animated films and creator of Batman: The Brave and the Bold on Cartoon Network, said there's still a vetting process for what gets to animation. When Tucker joined the studio in 1995, the predominant thinking was only "a Batman movie or Justice League movie" would work. When he was promoted years later, that was still the rule.
"My strategy was, if I have to do a Batman movie, I want something that will broaden the general knowledge [to] what DC fans know," he told Inverse. Tucker brings up 2016's Batman: Bad Blood, which included Batwoman and Batwing in their first appearance outside comics. "To the general public who doesn't read comics, it's new. So I'm using characters everyone knows as a gateway into niche characters comic fans know. Hopefully, that keeps it fresh for everybody."
In Justice League Dark, supernatural heroes like Deadman, Zatanna Zatara, and John Constantine form an alliance with Batman. Although a popular comic in 2011, it was brought to animation based on the simple fact "Justice League" was in the title. "It checked off all the boxes," said Tucker. "Our clients know how to sell the Justice League. 'Dark' is an add-on. It wasn't a hard sell."
"I don't ever have to do another Superman origin, another Batman in Crime Alley," Tucker added in a jubilant tone. "[But] there's a lot of characters who need that [origin story]. That's what I hope to do. Pick things up that have broad and also niche appeal."
Ultimately, though, the animated films stand on their own, and Tucker insists they never try to explicitly "prove" what works and what doesn't. "I've seen movies use stuff we've done, I've seen DC TV use threads and characters we've done. I don't have to prove anything. The proof is that everyone is using this stuff."
Teen Titans: The Judas Contract will be released on April 18, 2017.