How the Fastest Man Alive Destroyed a Video Game Studio
It would have been the definitive video game for the DC speedster. Here's how it all came apart.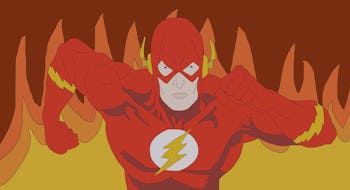 Jamie Loftus
Fans of the CW's The Flash get the definitive version of the Scarlet Speedster every week. But in 2009, the video game world almost beat TV to the punch. The Flash: The Fastest Man Alive was to be an open-world game starring the iconic DC hero, but the untimely demises of upstart video game publisher Brash and game studio BottleRocket stopped the promising game in its tracks.
BottleRocket was one of the several studios hired by Brash Entertainment to develop games based on licenses it acquired the year before, at the beginning of the superhero movie explosion. Brash, co-founded by blockbuster producer and Legendary Pictures' founder Thomas Tull, swaggered into the industry in 2007, opening up shop on Sunset Boulevard. The company was determined to cash in on the lucrative Hollywood movie tie-in game market. Among its studio clients was Warner Bros. and its DC Comics; Brash acquired the licenses to some of the biggest superheroes and began work on developing video games starring characters like Superman and the Flash.
"I could see there was something special to it," former BottleRocket Lead Designer Greg Miller tells Inverse about The Flash. "I've worked on a lot of games, but there wasn't anything that excited me as much as that one."
And it's easy to see why Brash and BottleRocket thought they had a good bet in The Flash. Superhero games got big in the aughts as high-profile movies created fan-friendly ecosystems within the Marvel and DC universes. It's hard to imagine now, but, when Brash was around, oversaturation wasn't a huge concern. Timing was.
BottleRocket had just lost an opportunity to produce a video game based on Zack Snyder's Watchmen when it hopped aboard The Flash. Immediately, Miller and his team envisioned an open-world game inspired by Grand Theft Auto and The Incredible Hulk: Ultimate Destruction; players would have raced as Wally West, the third Flash, saving Central City and Keystone from danger in an original story by renowned comics author Marv Wolfman. It would have had a multiplayer element, too, which would have allowed friends to race and complete objectives as speedsters like Jay Garrick, Jesse Quick, Max Mercury, XS, and even Superman. "Brash had the license [to include Superman]," says Miller. "You actually could have done the Flash versus Superman race," Miller continues, wistfully referring to the big event featured in issue #199 of Superman, an instant classic when it was published in 1967.
The gameplay itself was built to combine the free roaming of Grand Theft Auto with Tony Hawk's Pro Skater, popular skateboarding games that use physical momentum as a crucial gameplay element. Players could save citizens from spontaneous hazards — fires, bank robberies, cats stuck in trees — while calculating the quickest route to save them all.
BottleRocket was focused on perfecting the speed visuals, which makes the premature shutdown even more painful. "We were struggling with [speed] when we closed," says Miller, who remains irked by the YouTube commenters complaining about the early test footage he put online. "This was a new engine we were developing from scratch. We were still working. There were cases where Flash would run so fast he could get to a section of the city that hadn't even loaded yet."
The resources required to achieve this effect were significant, and they went all-in, because what they had was already becoming — in their eyes — the slickest superhero game they'd ever seen. A whole year before Batman: Arkham Asylum changed the rules of superhero video games, The Flash was tracking ahead. "Everyone who saw the game loved it," Miller says. "Brash was thrilled. DC was thrilled. One of the ladies we'd talked to at DC was like, 'This is the best, smoothest-running DC property we have seen to date.'"
Unfortunately, Brash was living up to its name and not in a good way. It rushed out two expensive games based on uninspiring summer movies: Alvin and the Chipmunks and Jumper — all three of its titles lost money. Soon after, Brash was forced to shut down and declare bankruptcy. In its brief 17-month lifespan, the company burned through more than $100 million. "They were expecting a quick turnaround as their model," Miller says. With Brash gone, support for The Flash and Man of Steel went with it. "All of a sudden, Brash didn't have money."
Also gone was a Nintendo 3DS version of The Flash. Set to be a mobile companion to BottleRocket's The Flash, Valencia-based studio WayForward — which successfully released its own game titled Justice League Heroes: The Flash for the Game Boy Advance two years prior — was working on the companion game. But they didn't get far, either. It was planned to have been more influenced by Geoff Johns's run on The Flash than the console version, but ultimately, "Nothing ever happened" says director Adam Tierney.
"They weren't tied together, but they would have come out at the same time," Tierney explains. "It was kind of a sequel sort of to [our] GBA game. It was a brawler [with a] similar perspective, similar art style." Like BottleRocket, WayForward had huge comic book fans on its team, including Tierney. Their Game Boy Advance title, which was a modest success in its release in 2006, was full of Flash lore and secrets, such as a hidden mechanic that let players use Flash's speed to cheat death.
When Brash closed, BottleRocket was still a year and a half away from completion. Still committed to its vision, the studio set out to find a publisher willing to pick up Fastest Man on Earth, but even DC parent company Warner Bros. balked. Despite the success of Batman: Arkham Asylum, Warner Bros. wasn't willing to overlook the obvious problem with the unfinished game: the ownership of the character rights.
"The issue was Brash owned the rights because they purchased [it] from DC," Miller says. "So anyone that wanted it would have to give Brash money. Why give money to a company that's going away?"
Warner Bros. wanted to wait for the rights to revert back, but BottleRocket couldn't wait that long and still survive. In the gaming industry, small- to mid-sized studios like BottleRocket often work freelance, dependant on the next job to pay its bills. "When you're working for smaller studios, there's always that [question of] 'What's next?' We were in kind of our low points again of 'What's going to happen with the studio?'"
With The Flash on hold, BottleRocket got work with Namco on Splatterhouse, which provided some revenue until development turned south due to creative differences. When Namco took Splatterhouse back from BottleRocket, the studio was left without options and closed in September 2009. "It was my fifth anniversary [with the company] that week when BottleRocket shut down," Miller remembers. Longtime BottleRocket employees often got commemorative t-shirts and a party to celebrate anniversaries, but Miller went without. "It kind of sucked."
Before BottleRocket closed, Miller rescued early footage of The Flash in the slim chance it could be resurrected. In 2014, he uploaded it to YouTube, where fans of the TV show and comics continue to yearn for the game that almost was. "That fan base is there and they are hungry for it," he says. Although the game was still early in its development, the excitement of running around and fighting Rogues like Captain Cold and Gorilla Grodd is enough to get the Flash's fans eager to play a game they never will.
"It seemed cool," says Tierney, who had hands-on time with the game before its demise. As the director of his own video game starring the Flash, Tierney knows what it takes to get the speedster right. "It's important to have fast, reactive combat," which Tierney believes BottleRocket was on track to accomplish. "It was cool to zip around and beat guys up. The little bit we played felt really good."
The story of The Flash: The Fastest Man Alive isn't uncommon. There exist countless, unfinished superhero games like Daredevil, The Dark Knight, The Avengers, and even Brash's other DC game Man of Steel that never flew up, up, and away. But as a celebration for the Scarlet Speedsters comic book history, The Flash: The Fastest Man Alive would have been more than a tie-in game, as it sought to define the Flash for an entire console generation with the obvious potential to spark a franchise.
Tierney thinks "now, more than ever" is the right time for The Flash to return, based on the size and enthusiasm for the TV universe. "If you get him right and figure out a fun way to make the player feel like the fastest person on Earth, it's a really satisfying game," says Tierney. "Now would be the perfect time to do more Flash." In the age of cinematic universes, perhaps there's still hope that the Flash can run.