'Batman: Bad Blood' Director Jay Oliva Talks Shop on Future of DC Animation
Jay Oliva on the Future of DC Animation.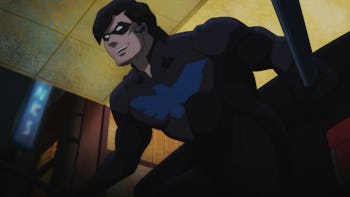 Warner Bros.
As the internet waits for Batman v. Superman: Dawn of Justice and Suicide Squad, DC Animation has already made its own full-length feature, Batman: Bad Blood, available on Blu-ray. The film evokes Grant Morrison's 2009 Batman and Robin comic series in which Dick Grayson, a.k.a. Nightwing, assumed the Bat-mantle as Damian Wayne becomes boy wonder Robin.
In Bad Blood, Bruce Wayne mysteriously vanishes leaving Grayson (voiced by Firefly alum Sean Maher) to don the cowl while also investigating his disappearance. Along the way, Grayson is joined by Batwoman (Yvonne Strahovski) and Batwing (Gaius Charles) who cement their footing in the new animated continuity. We caught up with Bad Blood director Jay Oliva at the film's premiere at the Paley Center in Manhattan to discuss the process of bringing DC's iconic characters to life, the crowded landscape of comic adaptations, and what might be in store for the studio.
What can you tell me about the conception of Batman: Bad Blood? How did this particular project come together?
[DC Producer] James Tucker worked with [writer] J. M. DeMatteis very closely, so they came up with the bones of the movie. By the time I got involved, they already had a second draft of the script, so at that point then James and I would talk and I would throw suggestions, but for the most part, this is something that James Tucker really developed, at least storyline wise. Once I come in, I bring in the visuals, rework some of the action sequences, work out the choreography and that kind of stuff.
You're a veteran director for DC Animation. What were some of the lessons you learned doing movies like Batman: The Dark Knight Returns that you applied in Batman: Bad Blood?
What I try to do with every movie is I try to learn. Whenever I'm with [DC producer] Bruce Timm — I mean he's got a huge history working on this medium, so whenever he tells me anything I'm writing it down like it's gold. James Tucker too, he's an amazing filmmaker, so I try to learn from him. I adjust my style depending on who I'm working for. If I'm working for James or Bruce, I adjust because I know Bruce has different sensibilities than what James is looking for, so I do that along the way. Then at the same time, I interject my own kind of tastes. I love Ip Man, The Raid, The Raid 2. When I saw Captain America: The Winter Soldier, I was like, "This is fantastic."
It was!
In my mind, I'm like, "How do I top Winter Soldier?" or "How do I capture that?" I'm always chasing that white rabbit. How do I push this medium more than what Bruce or James had done in the past? I'm hoping that filmmakers who come after me will take what I've done and push the game further.
I would kick myself if I didn't ask. You were also director on Young Justice. Is that dead in the water? Will we ever see Young Justice again?
Nothing's ever totally dead. Futurama and Family Guy came back, but the crew, we all moved on. I'm doing this stuff, Brandon Vietti and Greg Weisman are doing their own things. If the fans want it and there's enough uproar, then eventually. Who knows? We all might come back and do it, but you never know.
So it's dependent on fans. DC's animated films have their dedicated audience, you've cornered this market in ways your competitors haven't been able to. What do you think attributes to that success?
I think it's just the fans. They've really supported what we've done, whether they like the adaptations or the original stuff. This is maybe our 25th movie that we've done since Doomsday. We have such a rich pantheon of characters and we have a studio that supports what we want to do. We don't really get too much studio involvement.
You guys are independent, creatively?
Yeah. We don't get executives at Warner Bros. telling us, "Oh, you have to do this." It's James Tucker and Bruce Timm crafting these films and they trust us because they know that we do good work. I think that hands-off approach really lends itself to us being to do storylines like Under the Red Hood or Mask of the Phantasm.
Under the Red Hood* is my favorite DC animated film.
They're a hard sell through. Shareholders might be like, "We don't want to do that because fans don't like those characters." But I think being at Warner Bros., I'm very fortunate because they nurture us to be directors and creators and not really have to sell toys. I don't have to sell toys. I don't have Mattel or Hasbro or whoever saying, "You need to sell, so you need to do this."
What does end up "selling"?
Doing these adaptations, we get fans to go back and read the books. That's a great thing.
What are the fans reactions when they read the books? Or fans who read the books first, how do they feel about the changes you guys make?
One of the biggest criticisms I get for Dark Knight Returns are like, "Well, you didn't do exactly the books." None of these things are supposed to replace them. Like when we did Batman vs. Robin, it wasn't supposed to be an adaptation of Court of Owls, it was to bring that storyline into this continuity and establish Court of Owls are in and someday we might come back to it. We might be able to go into the storylines that Greg Capullo and those guys established in comics and bring it into us, so it's a whole new continuity. It's a way to bring things together.
I'm not doing a strict adaptation. This is my interpretation of it, but you can always go back to the books and read them. There's still the magic of reading the books and having that tangibility in your hands, and I still look at those books all the time.
What else can we expect in the future of DC Animation? What other books are you guys are looking to adapt? We already heard *Justice League vs. Teen Titans.
We do the Justice League continuity then Elseworlds, so there's a lot of things. I'd love to do Gotham by Gaslight. Even in this [Justice League] continuity, I'd love to do a Batwoman/Wonder Woman movie, based on that story. I thought it was a fantastic pair-up, you know? Or I'd love to go back and do a Flashpoint sequel or prequel.
Are you open to original stories that aren't based on anything?
When we're in this continuity, they try to have something that we pick and choose from as a basis, and then elaborate and come up with something original, so it really depends what the market is going for. Right now, Batman, Superman, Wonder Woman are getting hot because of Batman v. Superman, so because of that Warner Bros. might be like, "Hey, we want to see more of those." We might have another Wonder Woman film because of the Wonder Woman movie, or if Batwoman is a fan favorite and the sales are up for Bad Blood we might be able to have a Batwoman solo film. Why don't we have Batwoman and Thomas Wayne? How cool is that?
This is a testing ground to see new characters, if you think about it. Flashpoint Paradox was the first time Flash had a solo movie, and it's because of that Geoff Johns was able to show it to The CW and get the The Flash TV show. So who knows? What we're doing [with Bad Blood], we might be able to make a solo Batwoman or Batwing. Nightwing would be great, I'd love to see that.
I'm going to shout out two random DC things and ask if there's going to be a movie: Constatine. Are we going to see an animated Constantine?
Hopefully. I love Constantine, he's one of my favorite characters. I'd love to get [series lead Matt] Ryan back to do it, I thought he was great. [But] like I said, there's a whole list I'd love to do. I'd love to do Booster Gold, that would be a fun movie.
I would pay so much money to see a Booster Gold movie. How about Injustice, the video game from 2013?
That would be great. That's why Assault on Arkham was fun, because I got to do it based on the games, and Injustice would be fun. The thing is, sometimes at Elseworlds it ends up being something like The Killing Joke, so the things we want to do get pushed down the line because we only do three or four a year. There's only so much that we can do in that year.
Circling back to Batman: Bad Blood. What's the most thing you're proud of? What's the one scene that we should pay attention to?
The ending. The ending was something that I crafted, because when I read the script, it was one way, but then I pitched it to James. "I think we need to have it like this." So we re-crafted this ending, and hopefully you'll see it and you'll enjoy what I ended up doing.