Watch 'Justice League Action' Hilariously Recreate 'BvS'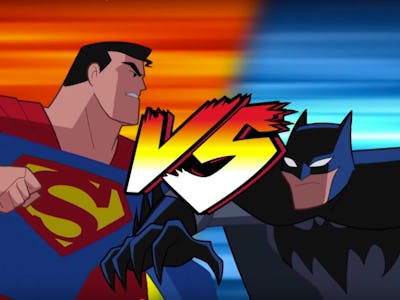 YouTube.com/Cartoon Network UK
For fans of retro fighting games and DC Comics, the new animated series Justice League Action is a blast. In a new clip on Cartoon Network UK's YouTube page, Toyman (voiced by Ken Jeong) forces Cyborg to play against him in his 4D video game, Blvd Brawlers 2: JLA, which has the kidnapped Justice League playing their own avatars.
The whole scene is a laugh riot as it homages everything from fighting game tropes (cheesy intros, taunting, special meters) to Superman's still weird shield maneuver from Superman II. The scene is also a spotlight on Cyborg, who takes the role of a youthful, energetic blerd (black nerd) obsessing over the "best combos system ever," to the chagrin of his older, grumpier colleagues, especially Batman.
Justice League Action just premiered last week, but the show has yet to explore the rest of the DC Universe. Previous clips have featured John Constantine, Swamp Thing, and Green Arrow. But this Toyman clip reveals even more who might already be in continuity. The anime-like intro and character select screen reveal Stargirl (now on DC's Legends of Tomorrow), the Flash, Martian Manhunter, the Joker, Harley Quinn, Lobo, Plastic Man, Firestorm, Darkseid, and even Dr. Fate.
It should also be worth noting that DC had its own actual fighting game, Injustice: Gods Among Us back in 2013. A sequel, Injustice 2, will be released in 2017, the same year Zack Snyder's Justice League hits theaters in November.
Check out the clip below. No coins needed, just press start.
Justice League Action premieres on Cartoon Network.