Don't Call Denzel Curry a Naruto Fan, He Loves 'Dragon Ball Z'
Denzel Curry speaks about his love of 'Dragon Ball Z.'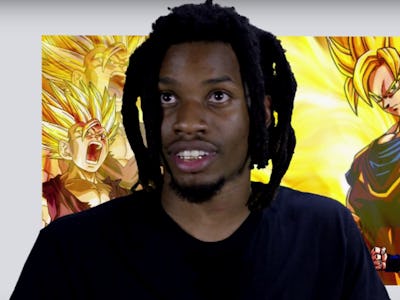 YouTube
Denzel Curry is the latest rapper to join a long list of blerds (black nerds) and Dragon Ball Z fanatics. Originally from Carol City, Florida, Curry has been making headlines as one of the most promising young rappers in today's generation of rap stars. He released his sophomore album, Imperial, earlier this year and has since cemented himself as one of the best new artists in the latest XXL freshman class with his ability to deliver bars over a myriad of different beats.
As part of 88 Rising's Good Fortunes, a web series dedicated to showing the influence of Asian culture on American artists, Denzel Curry delivered a dope freestyle over Rich Chigga's "Dat $tick" and performed "This Life," a track off Imperial. But, probably the best part of Denzel Curry's segment on the show is him speaking about his favorite anime of all time, Dragon Ball Z.
Curry starts off the interview by showing his disdain for people who call him a "Naruto gangster." He says, "First of all, I don't even watch Naruto like that. Let's get that shit straight." He then proceeds to ask the question, "Who hasn't grown up on Dragon Ball Z?" Although it's far-fetched to assume that everybody has watched Dragon Ball Z, as a 21-year-old black man from a poor background, it makes sense as to why Denzel Curry would make such an assumption. Dragon Ball Z and the other Toonami shows were predominantly watched by young boys of color in the United States. Because it was often one of the first anime shows kids were introduced to, DBZ is heralded as one of the greatest anime of all time. It's specifically a favorite among all young boys of color from a certain generation.
Created by Akira Toriyama, the anime premiered in Japan in 1989 and was brought to the United States in 1998 as part of Cartoon Network's Toonami programming. In a 2015 interview, Jason DeMarco, a former associate creative for Toonami, stated that, "We knew that Toonami and Dragon Ball Z in particular over-indexed with boys, and even more with minority audiences." Toonami creatives began infusing their commercials and in-between segments with black culture, utilizing hip-hop in order to attract their audience, and it worked. There were very few places that one could go to without striking up a conversation about what they watched on Toonami that week or what was happening on Dragon Ball Z.
Curry is definitely not alone in his love for the anime classic, and it would be interesting to spark a debate among rap stars about who the best character on Dragon Ball Z actually is. Curry said that Future Trunks is his favorite character, which is fair. Trunks was a lit character, and the sword definitely set him apart from the rest of the crew on the show.
However, to insert personal opinion, the best character on the show has to be Teen Gohan by a long-shot. Nobody went Super Saiyan 2 before him. If he had kept training instead of going to school like a lame, he would have been the strongest character on the show for many seasons. But, much respect to Denzel Curry and his knowledge of DBZ, showing the young kids that it's okay to be from the hood and be a blerd at the same time.