Deathstroke Tries to Murder Teen Titans in 'Judas Contract'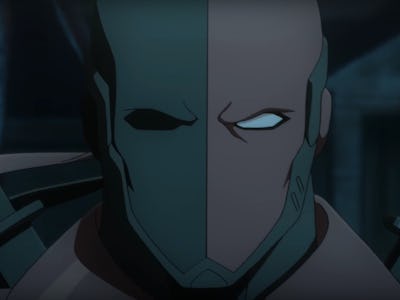 YouTube.com/IGN
For Slade Wilson, a job is a job. He'll kill anybody as long as he's paid, and in the new animated film Teen Titans: The Judas Contract, Slade's paid to kill the Teen Titans. An adaptation of the cult classic 1984 Teen Titans arc "The Judas Contract" by Marv Wolfman and George Pérez, the new animated feature loosely adapts the story with Brother Blood hiring Deathstroke to capture the Teen Titans for, well, bad guy purposes. And Deathstroke pulls no punches in his efforts to get the Teen Titans, going so far as to blow up Dick Grayson at point blank range.
Because this The Judas Contract movie takes place in the DC Animated continuity, which began with 2013's Justice League: The Flashpoint Paradox with the latest film Justice League Dark out this week, there are several differences from the Wolfman and Pérez comic. Besides the absence of Cyborg, Wonder Girl, and the inclusion of Blue Beetle, most noteworthy is the presence of Damian Wayne as Robin instead of Dick Grayson, who evolved into Nightwing throughout the course of the story. Dick also wears his sleek red New 52 Nightwing outfit for several seconds in the trailer, which wasn't his costume before 2011.
In short, don't expect a 1:1 adaptation of the comic, but pretty much no DC film in history, except Watchmen, has ever been truly faithful to the source material. Check out the trailer below.
There's also a clip from the film featuring the Titans meeting Koriand'r, aka Starfire, for the first time, which plants the seed for her romance with Dick.
Teen Titans: The Judas Contract will be released later this year.