Matt Ryan Read 150 'Hellblazer' Comics to Become Constantine
"I replied with two words, saying 'I'm in.'"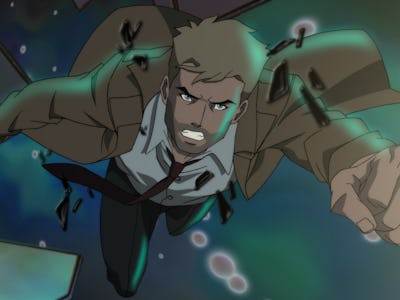 Warner Bros. Animation
It's been three years since John Constantine's live-action NBC series was canceled, and now, the British dark arts magician from DC Comics is enjoying his own resurrection. In the new R-rated film Justice League Dark, Matt Ryan reprises his acclaimed role. He'll also play Constantine again in the animated revival coming to CW Seed.
A loose adaptation of Jeff Lemire's 2011 gothic comic Justice League Dark, Constantine leads a team of dark mystics from the DC Universe to save the world from a threat the Justice League is too inexperienced to handle. But Constantine has been around a lot longer than that; after debuting in Alan Moore's Swamp Thing in the '80s, Constantine got his own series in Hellblazer, which lasted for 300 issues. Ryan, whose uncanny performance in the TV show made him a fan favorite, said he read about half of the entire Hellblazer series to prepare.
"When I was doing the show, I started reading all the Hellblazer comics. I got to about 150 issues," he told Inverse at the New York premiere of Justice League Dark. "My idea was to complete them before we started filming, but there was no chance of doing that with my schedule."
As a result, Ryan said he always felt "slightly underprepared" since he "didn't know the whole canon." Considering the heaping amount of praise he earned for his performance, it's a safe bet no one noticed — a sign of a true magician. With the new animated revival on the horizon, Ryan says he's ready to dive back in. "I think I'll pick up where I left off," he said.
Not a lot has changed in the short time Constantine has been away from the spotlight, but the change from live action to animated has been a sort of learning curve. "There's a physicality to john which I embodied in the TV show," Ryan explained. "In the [recording] booth, you have a lot more freedom to do more takes [but] you don't really know what you're reacting to. That's the major difference."
The DNA of John Constantine, Ryan says, has also been static across mediums just as his comic book version was in the change from Hellblazer to the New 52 in comics (except for his age). "Obviously he looks different, he's animation so I don't have to dye my hair blonde," Ryan joked (his natural color is brown). "But the DNA is very much the same."
The CW's animated Constantine, which will premiere during the 2017-2018 television season, was a no-brainer for Ryan. "I got an email from [producer] David Goyer saying they wanted to do it. I replied with two words, saying 'I'm in.' I love the character so much, in any medium I to get to play him is an honor."
Justice League Dark is available now.