5 Questions the CW's Animated 'Constantine' Needs to Resolve
Astra's still in trouble, John.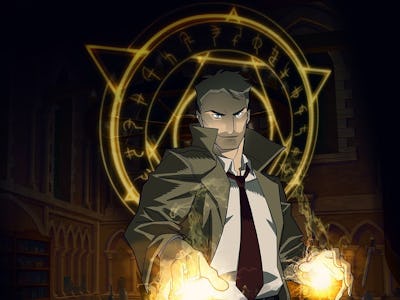 Twitter.com/cwseed
Like many television shows canceled too soon, the live-action show Constantine on NBC left one hell of an impression in its short 13-episode lifespan. And now, there are many unanswered questions that a new animated version of the series will have to deal with.
Based on the DC/Vertigo comic series Hellblazer, the Constantine show followed British street magician John Constantine. Lead Actor Matt Ryan nailed the character, too, making the con artist with an affinity towards cigarettes and sarcasm seem eerily real.
At first, Constantine was separate from the expansive DC Comics shared universe on the CW, but a crossover with Arrow in the fall of 2015 kept it from purgatory. The character barely stayed alive with a Blu-ray release, new action figures on shelves, and the one and only season becoming available for free on the CW Seed. Now, Matt Ryan will return to the DC Universe in animated form later this year after having a lead role in Justice League Dark in February.
It's unclear what the plot of the animated series will be, but given the typical progression of the Arrowverse and its previous animated show, Vixen, it will likely be set after the events of the live-action Constantine series. With just 44 minutes allotted on Arrow, ol' Johnny Constantine didn't have enough time to wrap up his own dangling threads, but now, maybe the animated revival will be able to. And it better, because we still don't have answers to the following five questions.
5. Manny's motives for the Brujeria.
Constantine had a guardian angel, of sorts, in the form of Manny (Harold Perrineau). Unfortunately, Manny turned out to be the head of La Brujeria, a shadow organization that was behind the "rising darkness," an artificial uptick in supernatural evil around the world. Constantine ended his series without a clue that the someone — or something — assigned to watch him also wanted to kill him. Constantine had spent his first season avoiding the Brujeria and its hired killers, not knowing he was close to the source the whole time.
The show's finale ended on this cliffhanger, with Manny revealing his motives but not moving forward with them. Could the new animated series finally put this story to rest?
4. Will Jim Corrigan become the Spectre?
Although it was just 13 episodes, Constantine wasted no time introducing secondary characters to flesh out its sandbox universe. Emmett J. Scanlan appeared in a recurring role as Jim Corrigan, a police detective who would have later become the supernatural superhero Spectre.
In "Waiting for the Man," the finale of Constantine, Zed (Anglica Celaya) shares with Corrigan that she sees a mysterious green aura around him and that it might kill him. This unfinished storyline would have likely ended with Corrigan's transformation into Spectre.
3. What the hell happened to Liv?
Liv (Lucy Griffiths), an original character, was introduced in the show's pilot as an audience surrogate for Constantine to unravel the darkness that lurks beneath. The show wrote her off, preferring Zed, an actual supporting character from the comics. But Liv's exit was kept open-ended enough for a possible return, which of course never happened.
While Liv's fate was relatively peaceful, it would do the new Constantine well to give a more definitive closure to Liv.
2. Will Constantine rescue Astra from Nergal?
The principal, long-term storyline for Constantine was John's guilt over Astra, a young girl he accidentally condemned to hell and his restless mission to rescue her. In the Hellblazer comics, Constantine succeeded at this, but it took a long, long, long time before he could.
For a while this looked like the predominant plan for the TV series. Astra and her soul's imprisonment, under the demonic Nergal, would be something for Constantine to resolve after four, maybe five seasons. But because of the show's premature end, Astra's fate is still unresolved. Could this be the principal story for the revival?
1. Is Constantine still, literally, in hell?
The last anyone in the Arrowverse has heard of Constantine was in Season 4 of Arrow, a dozen or so episodes after the crossover appearance. In "Taken," Oliver (Stephen Amell) gives a minor update to the whereabouts of Constantine: "He's in hell."
"What's going on?" asks Thea, aka Speedy. Oliver replies: "No, he's actually, literally in hell." Huh. Well, all that we know for sure is that Constantine has a lot of explaining to do when he returns in animated form sometime this year.