The 2016 Rio Olympics Were Weird as Hell
If there was a prize for "weirdest Olympics ever," Rio would probably win.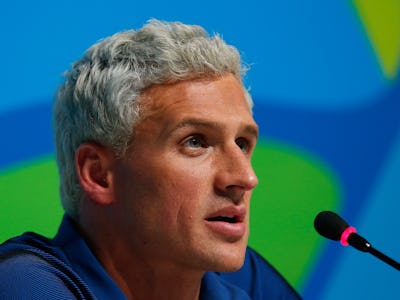 Getty Images / Matt Hazlett
It really says something about the 2016 Rio de Janeiro Olympics that PhelpsFace or the Ukrainian team throwing the gymnastic team finals aren't even close to being the weirdest things that happened over the last few weeks. Let's be real: Rio has been a roller coaster of weird, starting with leaking Olympic village apartments, to the organizers running out of food in venues, to the Williams sisters losing in the first round of open doubles. Rio may go down in history as the weirdest modern Olympics of all time (probably the weirdest Olympics of all time was when Emperor Nero crashed the 67 A.D. Olympics, bribing officials, and winning every event despite falling out of his chariot), so here are the ten weirdest Olympic highlights from Rio.
10. Cupping!
It was like vengeful octopi had attacked all the Olympic swimmers before the first day of the swimming competition. And since it has questionable effects on performance, let's hope this is a fitness fad that fades before Japan 2020, because even when Phelps was winning gold his cupping bruises looked terrible.
9. Sprinter diving for the gold medal
Allyson Felix was about to steal the gold in the 400-meter from Shaunae Miller, when Miller made a diving leap at the finish line like she was a baseball player stealing home. Turns out the move is totally legal, but it sure looked weird – and painful.
8. Fencer loses cell phone in middle of match**
It's still unclear what was going through Enzo Lefort's head when he walked into his bout in the foil round of 32 with his cell phone in his pocket, but this just makes it clear that Olympians are human too. Losing the phone kind of screwed up the explosiveness you need to succeed in Olympic fencing. He had clearly learned his lesson when helped France win silver in the men's team foil a few days later – sans cell phone.
7. Reaction to Tonga's Pita Taufatofua is Awesome
Pita Taufatofua made headlines when he carried the Tongan flag shirtless and lathered with coconut oil in the opening and closing ceremonies in Rio. Although Taufatofua lost in his Taekwondo match on Saturday, interest in Tonga went way up. Let's just hope that interest will actually go toward helping the country, and not just objectifying its residents.
6. Olympic Race Walking Became Epic
Olympic race walking is kind of a weird sport to begin with – but in Rio we discovered how intense it actually is. This Olympic race walker pooped his pants, fainted, and still came in seventh in the 50-kilometer race walk. That's dedication. Bless Yohann Diniz for his contributions to the sport.
5. High jumper too well endowed
Hiroki Ogita missed qualifying for high jump finals when his penis knocked the bar. This is a moment you can't actually believe until you see it in slow motion, but wow – one for the ages.
4. #LochteGate
It's hard to even sum up the mess that is Ryan Lochte's fake robbery scandal. There was the robbery at gun-point. Lochte left the country. And then Rio officials ordered him back for questioning. Turns out, he made the whole thing up to cover up being drunk and breaking a gas station door. Jeah. Who knows exactly what he was thinking, but he doesn't seem that sorry.
3. The diving pool turned green.
It was truly a saga, with officials in bewilderment as to the cause – the pool went from bright green, to bright green and smelling like farts, to being pumped with chemicals. Finally officials gave up and just totally drained and refilled the green pool when someone figured out that sneakily adding hydrogen peroxide to a chlorinated pool is actually a bad idea.
2. Mongolian wrestling coaches strip in protest
Just when you thought you'd seen it all, Mongolian head coach Serenbaatar Tsogtbayar and assistant coach Byambarenchin Bayaraa stripped to protest a penalty ruling that took Ganzorigiin Mandakhnaran off the medal stand. Mandakhnaran thought he'd won the bronze, when officials penalized him for avoiding his opponent for the last 18 seconds of the match. Nothing like a strip protest to end the Olympics
1. Mario-lympics
And speaking of ending the Olympics — Japan 2020 is already shaping up to be a one-of-a-kind Olympics as well. We got our first taste for whats in store when starting Shinzo Abe the Prime Minister of Japan appeared at the Rio closing ceremony dressed as Super Mario. I'm so ready for this.