Green Fart Pool Opens in Time for Olympic Diving Semifinals
Rio Officials Having Trouble With Chemistry.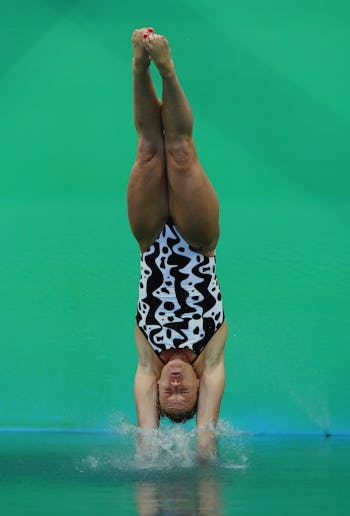 Getty Images / Dean Mouhtaropoulos
The stinky, green diving pool managed to reopen in time for the diving semifinals this afternoon, and Rio de Janeiro officials are finally providing some answers about what's been going on.
Basically, Rio officials are really having some trouble with pool management. Mario Andrada, a spokesperson for the Olympic Organizing Committee, told the AP that they pretty much just started chucking chemicals at the pool on Friday afternoon.
"The first reaction when we saw the water turning green was to use one of the chemicals — chlorine that is very common in swimming pools," said Andrada. This makes sense, considering their first statement said that the problem was an algae bloom.
However, not only did adding chlorine not work, it caused irritation for some of the athletes. They stopped adding chlorine, and it sounds like at this point they realized it was an alkalinity problem caused by one of the pool chemicals running out.
"Chemistry is not an exact science," he said. "Some things, as you can see, went longer than expected." Based on the absurdity of that statement, Andrada is probably really tired of holding press conferences about the diving pool by now.
More worries about the cleanliness of the pool sprang up after the diving pool was closed this morning. Rio organizers managed to open it a few hours before the three-meter women's springboard semifinal that started Friday afternoon. And after this quagmire of smells and colors and chemicals – the pool is still green.
And as far as we know, it probably still smells like farts.