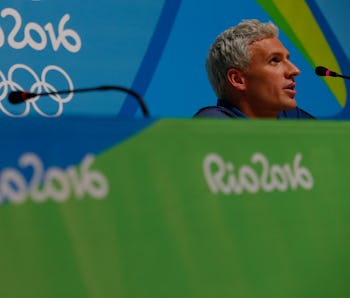 Science
Ryan Lochte May or May Not Be Sorry
Getty Images / Matt Hazlett
Is it too late for Olympic swimmer Ryan Lochte to say sorry for making up a story about being robbed at gunpoint in Rio de Janeiro to cover up a drunken mishap? That depends on whether you ask Lochte himself, who issued an apology of sorts to Instagram, or the Brazilian authorities investigating the international incident.
The incident in question is Lochte's claim that he and three other swimmers on the American team were stopped by a police officer and robbed on their way to the athletes village. Numerous security videos — and Lochte's ever-changing story — cast those claims into question on Thursday.
Lochte's decision to lie about the incident could be blamed on narcissism, stupidity, or any number of other factors. The question now is whether or not the apology — embedded below — is sincere or is merely an effort to convince the world that the swimmer deserves forgiveness because he isn't as horrible as the media has painted him to be.
That's a textbook apology, folks: one meant to "counter an accusation of wrongdoing" and "defend the actions of the accused." Here Lochte explains that he lied because someone pointed a gun at him and then quickly asks the world to focus on something, anything, else.
But is Lochte really sorry? This apology's got all the hallmarks of what psychologists term a non-apology. Republic presidential candidate Donald Trump pulled a similar one Thursday when he not-quite-apologized for making brash remarks during his campaign.
Here's what Trump said at a rally in Charlotte, North Carolina:
Sometimes, in the heat of debate and speaking on a multitude of issues, you don't choose the right words or you say the wrong thing … I have done that, and I regret it, particularly where it may have caused personal pain. Too much is at stake for us to be consumed with these issues.
Let's be honest: Trump's apology is maybe worse than Lochte's. At no point did Trump actually utter the words "I'm sorry," and he also asks the public to just move on already. It's right up there with U.S. Olympics women's soccer goalie Hope Solo's explanation for saying that the team "played a bunch of cowards" after it lost to Sweden:
At this point, it seems like all these sorry folks have taken JoJo's "Fuck Apologies" song to heart. But at least she's upfront about her unwillingness to say sorry instead of hiding behind non-apologies — or explanation apologies, or fake apologies — in an attempt to save face: