How CCTV Video Blew the Lid Off the Olympic Swimmer "Robbery"
Security footage casts doubt on the Olympic swimmer's story.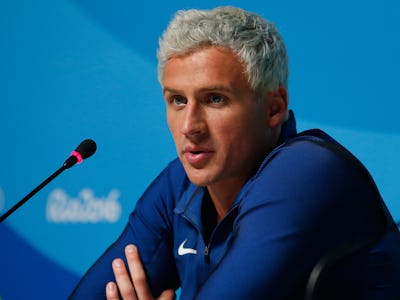 Getty Images / Matt Hazlett
A trio of young men walk up to metal detectors with watches on their wrists and phones in their pockets. They are calm, collected, and willing to wait as security guards double-check them because their belts set off the machine. Then they exit the frame as they walk away to re-enter the Olympic Village in Rio de Janeiro. At what point did any of those men act like they had just been robbed at gunpoint?
That's the question that led Brazilian authorities to remove two of those men —Olympic swimmers Jack Conger and Gunnar Bentz — from their flight back to the United States Wednesday night and detain them in Brazil while their claims of being robbed while taking a cab from a party are investigated.
Conger, Bentz, Jimmy Feigen, and Ryan Lochte told police they left a party at France House around 4 a.m. earlier in the week. While riding in a taxi, they said guys with police badges stopped them and held guns to Lochte's forehead after he refused to get down on the ground. The claim at first raised serious questions about Rio's security at the Olympics.
"The guy pulled out his gun, he cocked it, put it to my forehead," Lochte told the Today show. "He took my wallet and all the guys' cash." Turns out Lochte was lying, Brazilian investigators said Thursday.
What actually happened: The trio traveled by taxi to a Shell gas station a little after 6 a.m. — security camera footage shows they left a party at the France hospitality house a few minutes before — and broke a bathroom door when it wouldn't unlock. They were confronted by the manager and a security guard who was armed, but he did not draw his weapon, investigators say. The three swimmers left by the time police arrived.
Security footage obtained by the Daily Mail shows the group calmly entering the athlete's village.
This story is still developing, but for now what originally seemed like a failing of Rio's 2016 Olympics security measures — how could Brazil let four Olympic swimmers get robbed at gunpoint? — is now a story about four American sports celebrities in another country pitting their privilege and partying against CCTV footage.
That notion became even clearer when a video surfaced this afternoon showing the incident at the gas station. In the video, there is no evidence that the group was robbed at gunpoint, and it suggests that they were instead escorted out of their cab and then told to sit on the curb as they prepared to leave the premises:
An Olympics official offered an appeasing message on Thursday:
"We need to understand that these kids were trying to have fun, they came here, they represented their country to the best of the ability, they trained for at least four years, they competed under gigantic pressure," IOC spokesman Mario Andrada told reporters. "I understand that this issue under investigation, I cannot go into further details, but let's give these kids a break, sometimes you take action that you later regret… they had fun, they made a mistake, it's part of life, life goes on."
Conger and Bents will remain in Brazil. Lochte was already in the U.S. when the judge released that order, and according to a statement his father made to the Daytona Beach News-Journal, he might be planning to go on a vacation now that he's back.
He might want to stay out of Rio for a while.
This story has been updated to include the video taken at the gas station.