Ryan Lochte and the Extent of Rio's Security Technology
Doubled security and futuristic tech hasn't stopped a top athlete from  being robbed.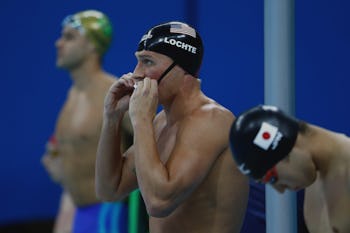 Getty Images / Clive Rose
As Brazil was readying their preparations for a successful Summer Olympics in Rio de Janeiro, the country's economic, social, and political troubles began spilling over into the country's global spotlight. Crime was just one of the many problems the country faced leading-up to the games, and it seems that preventative measures didn't stop one of the top athletes from being robbed at gunpoint.
Reports are confirming that six-time gold medalist Ryan Lochte and three other Olympic swimmers were riding a taxi heading back to the athlete's village, when they were stopped by robbers posing as police officers. "We got pulled over, in the taxi, and these guys came out with a badge, a police badge, no lights, no nothing just a police badge," Lochte told NBC News. That's when the robbers pulled a gun on the four Olympic swimmers. Lochte and the swimmers escaped safely, having just lost their wallets during the confrontation.
While Lochte had originally denied the crime occurring, he later confirmed that he was a victim of armed robbery after his mother and the United States Olympic Committee corroborated the police reports.
This crime refocuses the conversation about safety measures enacted at the Rio Olympics. Along with a threefold increase in Olympic security by the Rio military, the city launched a wide net of surveillance tools including high-powered cameras attached to balloons.
The cameras are named Simera and are produced by the American company Logos Technologies. The wide-area motion imagery system, or WAMI, is a lightweight camera system that is designed to hover over the Olympic venue like an all-seeing eye. The technology was previously used by the American military during missions in Iraq and Afghanistan. Four of these balloons are currently commissioned by the country for the games.
Despite these extreme measures, bolstered by increased security and the city's closed-circuit TV (CCTV) system, crime at the Rio Olympics is still being widely reported. Lochte is one of the most high-profile victims in an Olympics in which media members have repeatedly been robbed of equipment and valuables.