Before Rio Olympics, GE to Install Street Lights That Could Recognize Gun Shots
They could do a lot more than just automatically dim.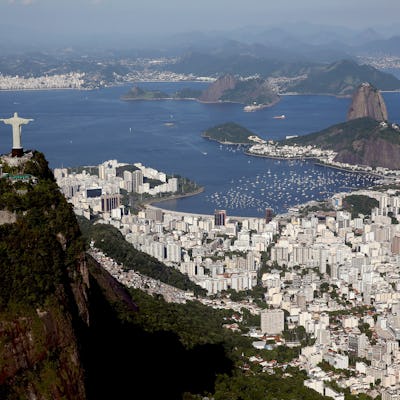 Getty Images
Fifty days out from the Olympics in Rio de Janeiro, General Electric has announced it will install a smart light system in the city of 6.3 million, two GE officials tell Inverse.
GE is putting in the lights as part of the company's partnership with the already-beleaguered 2016 Olympic games in Rio de Janeiro. The system of more than 1,600 connected LED lights is going up in Flamengo Park, the largest public park in Rio, and the Lapa area in the center of the city.
These new lights, GE says, will allow the Rio to activate precise "on-off" and dimming schedules to save on energy costs.
As GE completes this installation, Current — an "energy startup powered by GE" — is amassing "a robust ecosystem of partners and building a digital app catalog" that will make those 1,600 LED fixtures able to to other things besides handle lighting: track parking and traffic, sense environmental data, light and air quality, and even detect gunshots.
Brazil has one of the highest rates of gun violence in the world, with almost 35,000 firearm deaths per year. Rio, meanwhile, is relatively safe compared to the rest of the country, with reportedly less murders than Detroit or St. Louis, American cities with high murder rates relative to population.
The new smart-lights lay the ground work for the potential implementation of ShotSpotter technology, which can recognize gun shots down to the type of gun used and send data back to police departments immediately.
If Rio decides to make its smart street lights also listen for gun shots, here's how it would work: the smart lights are controlled by a central system. ShotSpotter sensors fit onto these lights and hook up to the same light control system, albeit with updated software. When a sensor detects gunfire, the system alerts the dispatch centers and patrol cars, sending them the location of the gunshot, how many shooters were involved, what kind of gun was used and other relevant data.
Although the lighting system will cover Flamengo Park and Lapa, the city can bid to expand the system to provide full coverage, a process that should be completed in around two years.
The lights are powered by LightGrid, an expandable system that enables cities to remotely manage lighting through a single smart system. City energy commissioners will be able to remotely control the light system from their smartphones, with the ability to switch on and off individual lights if they want to. The system is an entry point into bigger and more advanced tech, with LightGrid laying the foundations for the future.
"We start with small actions, with city management, to begin with remote management of lighting systems," Lanna Caram, Current by GE's lead lighting designer in Brazil, tells Inverse. "As time goes by and the city notices the benefits of having remote control of lighting systems, we can update our luminaires to receive all sorts of monitoring equipment."
"It is a tradition that GE makes a donation for the whole city, since 2008 in Beijing," Alfredo Mello, GE commercial leader for the Olympics, tells Inverse. "We wanted to do two donations for Rio de Janeiro, one for healthcare equipment, and one for this lighting technology."
If Rio decides to upgrade the light systems with ShotSpotter sensors, it could go a long way toward improving police response time to gun violence.
"If we have the basic infrastructure ready within a couple of years, we can have the whole system installed depending on which kind of solution each city wants to adopt," Caram says. "The technology is ready, and it depends on the way each city wants to apply each technology."
Rio would not be the first city to build this into their police operations, though. San Francisco is already using ShotSpotter sensors, and the results so far have been questionable. Research published in April 2016 by the Center for Investigative Reporting found that in 3,000 ShotSpotter alerts, only two arrests were made. Just one of the two arrests was related to gun crime.
Still, ShotSpotter may provide value beyond immediate arrests. Brian Maxey, chief operating officer with the Seattle Police Department, told Seattle Weekly that the data can help with larger investigations. Cops investigating gangs can visit ShotSpotter alert scenes and collect shell casings, useful for tracking down gangs and repeat offenders. Seattle announced plans this week to roll out the technology citywide.
And ShotSpotter is just one possibility for the light system. GE's solution runs on Predix, a software platform, which takes data from city lights and analyzes it for a number of situations. Beyond parking, Predix can provide air quality, traffic routing, and emergency response information.
The company will broadcast the light system being unveiled on its Facebook page at 4:20 p.m. Eastern on Friday. The show will be day five of a week of programming through Facebook Live, featuring documentaries filmed using drones about GE's Rio 2016 work.
Correction: An earlier version of this story said that GE's light system will detect gunfire. The article has been amended to clarify that they have the potential to detect gunfire.