#PhelpsFace and the Psychology of Olympic-Sized Rivalries
Sport rivalries don't just make it more fun for the viewers, they actually help the competitors succeed.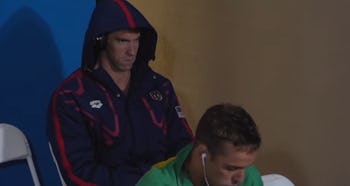 Screenshot/NBC/YouTube
On Monday, viewers of the 2016 Rio de Janeiro Olympics were blessed with what they wanted most of all — a double feature of a supreme feat of athleticism paired with a fantastic meme. Right before the men's finals in the 200-meter butterfly, South African swimmer Chad Le Clos decided to shadow box and generally jostle around longtime rival, Michael Phelps. Phelps was visibly not having it, and his pissed off visage resulted in #PhelpsFace. Phelps went on to absolutely crush the race, coming in for the gold while Le Clos looked on in defeat.
While there's no doubt that Phelps is one of the best — if not the best — swimmers in the world, did having a rivalry with Le Clos enhance his chances of a win? He's lost to him before, which is why there's a rivalry in the first place. Since Beijing 2008 the two have traded victories and sick burns, with Le Clos saying in 2014 that he didn't think the American Olympian "likes me very much."
"Rivalries definitely affect your chance of winning," says University of Memphis assistant professor Cody Havard. "It's human nature — we all want to be successful at something. We pick the activities, whether it's a sport or not, that we feel like we can be successful at. One way of showing success is obviously to come out favorably compared to someone else."
In academia, rivalries are described as powerful psychological phenomenons that come with real behavioral consequences. Rivals are formed by repeated interactions over a number of years, like Phelps and Le Clos, and are expected to influence the behavior of the competitors long after the contests have been won or lost. In a study published in the Academy of Management Journal, a team of researchers describe rivalry as motivation that goes "above and beyond an ordinary competitive spirit" or even the stakes at hand. And it's this intensity that, in turn, gives rivals the extra willpower that leads to real results.
In 2010 Gavin Kilduff, now a professor at New York University, found that when competitive runners were in a race with rivals they were at least four seconds per kilometer faster compared to races without their rivals. In a different 2010 study, Kilduff and his team determined that NCAA basketball teams played stronger defense and hustled harder when competing against rivals. Rivalry in these cases magnified the psychological states of the players and motivated them to try harder.
The effects of sporting rivalries aren't just reserved for the players, says Harvard; they affect fans as well. In his research, Havard has found that people are more likely to attend games if they're playing a rival team, more likely to read about their team, follow their team online, and where merchandise for their team specifically when their team is about to play a rival, versus a non-rival. Fan investment is part of people's psychological need to root for their personal in-group compared to the out-group — whether that's your college football team or the United States of America at the Olympics.
This rivalry-fueled support, in turn, motivates whoever we want to kick ass.
"Rivalry increases fan's intensity and makes us pay more attention — think about how when you're watching a favorite player or a team play their rival team, it's almost like you can't enjoy it until it's over and you know that they won," says Havard. "It makes sense to me that this intensity would come out in the way that we cheer and that would play into how successful a team is going to be, like in a home court advantage situation."
The Phelps/Le Clos rivalry isn't over yet — the two will compete tonight for the final time this Olympics during the men's 100-meter butterfly final. "For Le CLos, he wants to get some sort of revenge, and for Phelps — he doesn't want to have gotten his win and then just lose tonight during what might be his final swim in any Olympics," says Havard. "I'm sure to both of them this is not just another swim."