Why the Ukrainian Men's Gymnastic Team Decided to Throw Team Finals
Turns out it's not to re-enact 'Stick It.'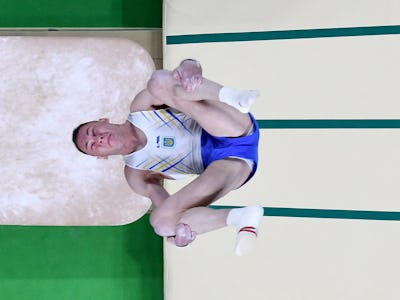 Getty Images / Alex Livesey
In a new twist in the Ukrainian men's gymnastics controversy, it sounds like one of the team was injured right before the team final.
After the competition Monday night, Oleg Verniaiev announced on his Instagram that one of his team members was hospitalized before the competition. According to the post, the team found out about the injury 15 minutes before team finals were set to begin. Based on the four events where Ukraine didn't field a full team, it is likely that it is Maksym Semiankiv who was injured.
According to a tweet from Andy Thornton, a blogger for NBC, Semiankiv somehow injured his hand right before the finals were set to begin. This left Semiankiv unable to compete, and placed the Ukrainian team in a bind. With only 15 minutes before the competition started, it was too late to pull out entirely. Yet, unlike larger teams with multiple alternative options (like the U.S. women's team) Ukraine had sent just five male gymnasts to compete in Rio de Janeiro.
The way the team finals work, there are three gymnasts on each apparatus, and all scores count. Ukraine had set up so that only Vladyslav Hryko competed in all six events. The rest of the team divvied up the remaining slots based on their strengths. Oleg Verniaiev was set to only compete on the pommel horse and parallel bars, because he was the top qualifier for the men's all-around final and they were trying to protect his ability to compete.
This set-up exposed problem areas on the four events where Maksym Semiankiv was supposed to perform – floor, rings, high bar, and parallel bars. And in most cases the alternative gymnast for that event (Andrii Sienichkin) did not compete in the qualifiers – leaving Verniaiev to either step up, or sit out.
Without a real chance to medal in the team event, and with a possibility at a gold medal for Verniaiev in the all around final on Wednesday, the Ukrainian team decided not to risk Verniaiev's health. Based on his Instagram, he felt pretty upset about it, and was very apologetic to the Swiss team:
The one place they could have added a gymnast and didn't was on the parallel bars. Sienichkin could potentially have competed there, but he had a very low scoring routine in qualifications. Once the team had already decided to scratch, it seems like they decided not to throw him into the team final last minute.