What Do We Know About Jake Kasdan's New 'Jumanji' Movie?
The Robin Williams classic returns to theaters in a new form this Christmas.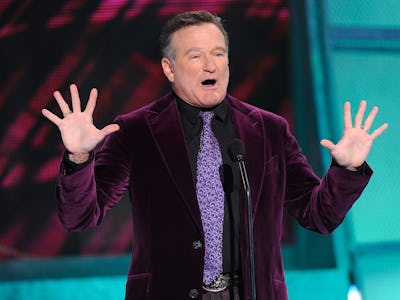 Kevork Djansezian/Getty Images for PCA
Jumanji feels timeless. Premiering in Christmastime 1995, the Robin Williams-starring film was born into the sweet spot of '90s kids adventure flicks where the digital technology was strong enough to bring the fantasy to life, but not too detailed to become a Michael Bay wet dream of the late 2000s. With word coming that a remake will arrive on Christmas this year, it's safe to wonder what Jumanji will look like 21 years later.
The knee jerk reaction with any reboot is that it'll feature boatloads of CGI. Jumanji, after all, is the imagining of a jungle-based children's board game that comes to life. There are crocodiles, monkeys in cop cars, thrashing rivers. The whole gamut. If there were to be a movie deserving of a flashy high-def update, it could very well be Jumanji. Among the game's terrors, though, is innocence. It's still a game, and everything is safe in the end — thanks to Robin William's guidance, of course. Turning Jumanji into a fright fest would not honor its lightheartedness.
Fortunately, Columbia Pictures has brought on a comedy director for Jumanji 2K16: Jake Kasdan. Kasdan directed a handful of Freaks and Geeks episodes at the turn of the century. He's also responsible for the 2002 Jack Black classic Orange County, 2007's Judd Apatow vehicle Walk Hard, and Fox's Zooey Deschanel sitcom New Girl. More recently, he's an executive producer and director for The Grinder. With that track record, Kasdan is almost certainly not going to muck up Jumanji with unnecessary flashiness.
On the writers' side of things, Jumanji is splitting the bill between comedy and science fiction. Scott Rosenberg and Jeff Pinkner penned the script behind the reboot. Rosenberg has worked on serious efforts, such as Con Air, but also campier stuff like Tobey Maguire's 2002 Spider-Man and Kangaroo Jack. Pinkner, on the other hand, is well versed in heady sci-fi, having worked on Fringe and Lost. Coincidentally, he contributed to the screenplay for 2014's much more serious The Amazing Spider-Man 2.
Rosenberg and Pinkner's involvement does not indicate that Jumanji will go full Hollywood bombast. Their tendencies will likely balance out. It's not going to be a head-scratching mind melt of a movie, but it may not be so happy-go-lucky. They should be able to add some nuance to the project beyond "It's a Real Life Game" without going too deep down a science fiction rabbit hole.
The major question, thus, turns to one for which we do not yet have an answer: Who will follow in Robin Williams's footsteps in portraying Alan Parrish, the little boy who gets trapped in Jumanji, only to emerge 26 years later as a battle-worn man?
Williams had the special ability of bringing genuine pathos to his characters without becoming too serious — unless, of course, the role called for it, but this was a kid's movie. He also wasn't ripped. The new Jumanji does not require a newly-jacked John Krasinski, for instance, to be effective because Alan does not help the kids win the game with brute strength. At the same time, the adult protagonist should not be a total goof. Seth Rogen trying to save his joint from a ravenous monkey is also not in the cards.
Perhaps an actor more uncommon to family films would be best. Michael Fassbender may have been a total dick in Steve Jobs and an in-shape lunatic in Macbeth last year, but he's also got the warm face and talent to pull off the adventure hero role. Maybe Adam Driver capitalizes on his Kylo Ren good will to play someone less despicable. His voice is already silly. Kids'll love it. Michael B. Jordan is on a roll, too. Creed presented him to a massive audience, and his turn as Wallace in The Wire, back as a teen, show he's capable of strong emotion.
Whoever it is, they'll be forever compared to Robin Williams, as will the entire Jumanji remake. Kasdan, Rosenberg, Pinkner, and the whole Columbia Pictures team, if they really want the reboot to succeed, should not take daring chances. Simply recreate the film in a 21st-century setting for kids of all ages to enjoy once again.