Kylo Ren Goes 'Undercover Boss' on 'SNL' 
Adam Driver brings his 'Star Wars' character to 'Saturday Night Live' on 'Undercover Boss: Starkiller Base.'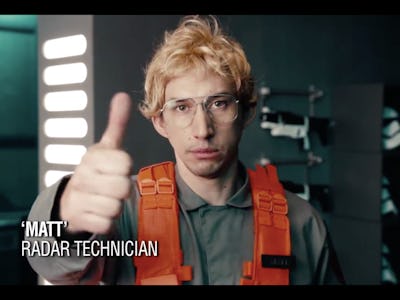 'Saturday Night Live' / NBC
In the first Saturday Night Live monologue of 2016, Adam Driver almost immediately brought up this little film he starred in that you may have heard of, Star Wars: The Force Awakens. His character, Kylo Ren, is the villainous spawn of Han Solo and Leia Organa.
Taran Killam, lightsaber in hand, and Bobby Moynihan in full Kylo Ren gear, reveal themselves as superfans obsessed with the outcome of the next movie in the saga. So it wasn't surprising when only a few sketches in, the Commander of the First Order appears in a special edition of Undercover Boss: Starkiller Base.
The premise of the actual TV show involves a boss secretly mixing with their own employees to see what it's really like to work at the company. Pretty clever, right? In the break room of Starkiller Base, under an inspirational "Teamwork" Startrooper poster, Kylo Ren introduces himself as radar technician Matt.
"You guys like working here?" he asks Lieutenant Colonel Zach (Killam) and a Stormtrooper (Moynihan), "What do you think of Kylo Ren? Do you guys believe when he says that he's going to finish what Darth Vader started?"
And so the fun begins.
"I have a newfound respect for what my employees do. It's not as easy as I presumed," "Matt" reports after a hungry Leslie Jones berates him on the job. #UndercoverRen undoubtedly offers some of Driver's finest acting. Well, his finest acting as the SNL host last night. Dark side or not, this sketch will put a smile on your face.