Mack Wilds and 'The Wire' Kids Are Having a Moment
The actor-turned-singer returns with a new song.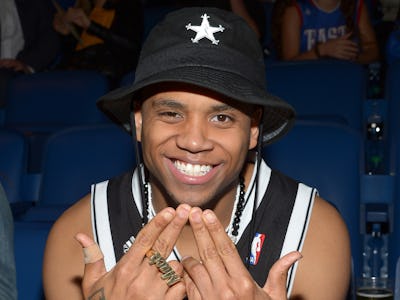 Mike Coppola/Getty Images
Does that friendly smile up there look familiar? That's Tristan Wilds. He's now an R&B singer who goes by Mack Wilds, but he's probably best known by another name altogether: Michael Lee from HBO's The Wire.
Wilds most recently appeared alongside Adele in her "Hello" video. But apart from that very high-profile cameo, he's focused primarily on his singing career. In 2013 he released his debut New York: A Love Story, which earned him a 2014 Grammy nomination for Best Urban Contemporary Album. He's now back with his first single since that album, "Love in the 90z."
As the title suggests, it's a tribute to 1990s radio R&B. He name-drops TLC, Keith Sweat, and Jodeci in the hook. It's also pretty refreshingly straightforward. In the bridge he sings, "I know that you got a thing for the bad boys / And I know that you fuck with dudes in them fast cars." Although he's convincing his prospective lover to love him ("like we did in the '90s"), he's also telling the listener everything he/she wants to hear. It's commodified and compact nostalgia.
Wilds isn't the only former Wire cast member revamping his career in a post-HBO world. Michael B. Jordan — who played Wallace — has probably made it the biggest. He's starring in the Rocky spin-off Creed and was the Human Torch in this summer's Fantastic Four flop.
Idris Elba (Stringer Bell) is arguably the most successful of the adults on the show. He recently starred in Netflix's Beasts of No Nation, and could potentially be the next James Bond. But if that doesn't work out, he's got a DJ career to fall back on.
Aidan Gillen (Mayor Tommy Carcetti) now plays Petyr Baelish in Game of Thrones. Dominic West (Jimmy McNulty) has managed to find his way back onto prestige television with Showtime's The Affair. Michael Hyatt (Brianna Barksdale) had a sometimes important role in Season 2 of True Detective. And creator David Simon managed to shoehorn Clarke Peters (Lester Freamon), Michael Kostroff (Maury Levy), Julito McCullum (Namond Brice), and Melanie Nicholls-King (Cheryl) into the HBO miniseries Show Me a Hero. But most importantly, who could forget Robert Wisdom's (Bunny Colvin) role in The Loft?
The only other Wire kid who's even trying to make it off-screen is Jermaine Crawford — better known as Dukie. He's got a handful of R&B tracks, but none stack up to Wilds' output.
So, basically, Mack Wilds is just catching up to his fellow Wire alums. He is, however, the only one making actually significant waves off-screen (sorry, Dukie). "Love in the 90z" is not a groundbreaking song and it's not a departure from his established sound from New York. But it is continued growth for an artist who is making his mark with a particular familiar sound.