This James Bond Kill Count Video Is Sad and Hilarious 
A new video tallies just how many people 007 has whacked across 23 films.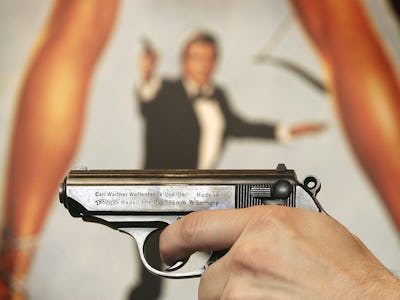 Getty Images
Twenty-four films, six actors, and hundreds of villains to ice while quipping puns. James Bond and his iconic Walther PPK — or any number of gadgets Q has bequeathed to 007 over the years — has handily dispatched more than his fair share of enemies. But just how many?
The folks behind YouTube channel Auralnauts have edited together a nearly 40-minute supercut of every death Bond has caused through the 53-year franchise, minus Spectre, which is currently in theaters.
If you don't have 40 minutes for a British man's wanton disregard for human life, we can tell you now that Bond's final kill count up to Spectre is 362 people. With Spectre just being released stateside that amount will keep going up, but for now this seems to be the most accurate representation of Bond's efforts to justify that license to kill.
Pierce Brosnan looks to be the deadliest Bond. A few years ago The Economist crunched the numbers and found his iteration of Bond killed an average of 19 people per film. Daniel Craig and Sean Connery trailed close behind with just under an average 10 kills per film.
If you're into other Bond trivia, we brought you news of different factoids last week, including the fact that Connery spent nearly half of his screentime in the Bond movies without a shirt.