Awesome James Bond Index Puts Every 007 Into Perspective
'Bloomberg Business' deconstructed the long-running Bond franchise for our spy-loving pleasure.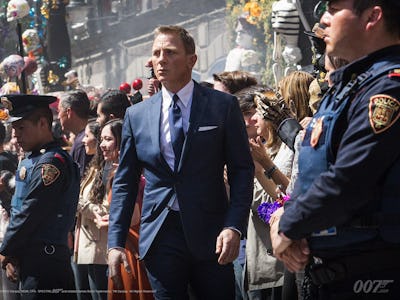 www.facebook.com/SpectreMovie
With Spectre hitting U.S. theaters today, many outlets are taking deep dives into the half-a-century-long Bond canon. Six actors have taken up the 007 moniker over all 24 installments of the series, which makes for a lot of variation in just what it means to be Bond. Bloomberg Business put together a handy Bond index, tracking eight traits that epitomize the suave British spy, and they broke down each trait on an actor-to-actor basis. Bond diehards will love it.
Of the 51 hours of Bond adventures, the most besuited 007 is the platonic ideal of Bond: Sean Connery himself. Connery spent 45 percent of his screen time in the bespoke suits typical of the spy in movies like Goldfinger, From Russia With Love, and Dr. No. Daniel Craig is a close second, spending 40.2 percent of his time onscreen decked out in expensive, supercool Tom Ford duds. It seems Roger Moore, the actor who has appeared in the most Bond movies, spent his time in anything but a suit, tallying only 23.2 percent of his screen time so dressed.
On the flipside, Bond appears shirtless in 21 of the 24 films. The guy who spent the most time in a suit is also the guy with the most time out of one. Connery spent 4 percent of his on-screen exploits as 007 without a shirt, and spent 9 percent of the entire movie of Thunderball shirtless. Timothy Dalton seemingly wanted to stay clothed, spending only 0.8 percent in a state of disrobe.
Bond is a character whose notorious exploits under the covers complements his supposed charm. But the actor who spends the most time flirting, seducing, or being overly randy is the Bond who appeared in only one installment: George Lazenby. More than 10 percent of his turn in On Her Majesty's Secret Service was spent on making advances. At the bottom of the list is Dalton again, who spent more time actually doing spy things than doing other spies: only 2.9 percent of his screen time was devoted to getting down.
The list goes on from there, with other great tidbits like: Pierce Brosnan used an average of 14 gadgets per film, or that Craig and Dalton spent the most time getting reprimanded by superiors with 3.5 average rebukes per film. Bloomberg also deconstructed each movie based on whether his love interest dies in the movie or if he utters his famous line: "Bond, James Bond."
This is great. Simply great.