The Final Trailer for Netflix's 'Beasts of No Nation' Is Here 
This Netflix original directed by Cary Fukunaga and starring Idris Elba is already getting Oscar buzz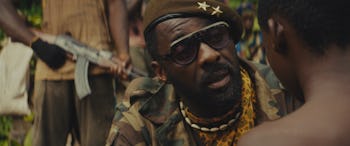 Beasts of No Nation, directed by True Detective's Cary Fukunaga and starring Idris Elba, could shake up the film industry the same way that streaming services like Netflix and Amazon have shaken up television. Check out its final trailer:
The film, which centers around a child soldier in an unnamed West African country, certainly has the marks of an Oscar contender: critically acclaimed yet slightly offbeat director, talented powerhouse actor diving into a morally ambiguous role — Elba is playing a charismatic yet fearsome commander— harrowing subject matter, and a breakout performance from a young star.
Newcomer Abraham Attah is just fourteen and has already been sweeping up awards for his starring role in Beasts of No Nation. If a Netflix film ends up being an Oscar contender, it could give the film-industry a much-needed jolt.
Beats of No Nation hits Netflix on Friday, October 16.