David Simon's 'Show Me a Hero' Creates the Nice Guy Anti-Hero
A city mayor wants to marginalize his constituents, but that seems OK for now.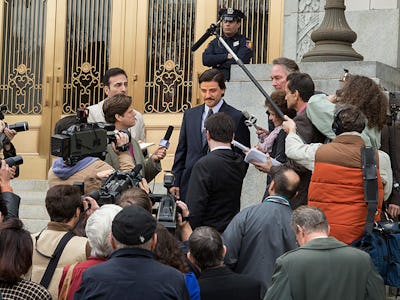 HBO
To root for Mayor Nick Wasicsko, you're rooting for the racist housing policies he and the city of Yonkers want to implement, but you still root for him. Wasicsko is the protagonist of David Simon's new HBO miniseries, Show Me a Hero, starring Oscar Isaac as the embattled mayor. The show's focus is Yonkers's late 1980s resistance to federally-mandated integrated public and affordable housing. Looking back 25 years later, the white Yonkers citizens' cries that they "earned" their houses in nice neighborhoods and that project buildings always "create" crime are classic examples of Reagan-era racism. But Wasicsko is their mayor, and, as he sees it, he has to serve his constituents and their interests, no matter how hateful.
In Part 1 of the six-part series, Wasicsko goes from first-term councilman to mayor, beating six-term incumbent Angelo R. Martinelli (played by Jim Belushi) by promising he'll appeal the federal court's public housing mandate. Winning the election makes Wasicsko, 28, the youngest mayor of a major American city. But, as Wasicsko learns in Part 2, the fun fades fast and the whole city turns against its newly-elected leader when he finds it's impossible to overturn the mandate.
In defending his actions to the people of Yonkers, Wasicsko only ever claims "it's the law" and that he has a responsibility to abide by it. There is never a moment's consideration the public housing may help real people in need. (Simon, however, makes the point crystal clear with the working-class supporting characters' side stories.)
In his complacence, Wasicsko represents a different type of anti-hero. Don Draper, Tony Soprano, and Walter White all had glaring flaws. No matter how much you'd grow to love them, they were still obviously bad men. Wasicsko, on the other hand, doesn't seem so bad. He awkwardly courts and falls in love with Nay Noe, the secretary for another councilman. He visits his father's grave for emotional support. He's a real mensch. So when he painstakingly, nervously tries to think of new ways to appeal the housing mandate to please his constituents, his efforts are endearing — not the work of a racist mayor.
Part of why Wasicsko gets a pass is because, during that era, racism and ignorance are the baseline. (Only the judge Leonard B. Sand [Bob Balaban] and the N.A.A.C.P. lawyer Michael H. Sussman [Jon Bernthal] think about the human lives involved in the case.) But other anti-housing council members — namely resident asshole Henry J. Spallone (Alfred Molina) — don't get the sympathy Wasicsko does. Realistically, we should be rooting for Wasicsko to fail because the underserved deserve affordable housing. But with his arm twisted and his "aw shucks" attitude, Wasicsko is the nice guy anti-hero.