New Trailer for Benghazi Movie '13 Hours' Promises to "Unleash Hate" on America's Enemies
Let's not judge this one on accuracy.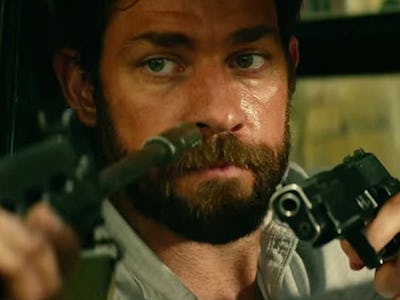 YouTube
The latest red band trailer for Michael Bay's 13 Hours: The Secret Soldiers of Benghazi is out and looking less like a somber examination of a national tragedy and more like a kickass, bearded action movie for those who thought American Sniper was too subtle.
This is Michael Bay we're talking about so that shouldn't be a shock, and if you're going to enjoy the movie at all you should probably walk in ready to measure this film's success against The Rock and not Saving Private Ryan. If that's how we keep score, then, yes, this looks like everything you could ask for in a men-on-a-mission-against-the-odds picture. By that measure, go ahead and get pumped as you watch America's boys handed an impossible rescue mission in a country they're reminded they aren't even supposed to be operating in.
Here are your trailer totals, near as the naked eye can catch between edits:
Bursts of rapid gunfire: 12
Shots of trained killers swarming under cover of darkness: 2
Explosions: At least 17
Times soldiers are ordered to stand down by bureaucrat-in-charge David Costabile: 1
Portentous dialogue: "If you don't send air support Americans are going to die. Including the one talking to you right now."
It does look like a movie that's marketed as a Adrenaline-Pumping, White Knuckle Thrill Ride — with a January release that will fortunately save you suffering a critical interpretation from that uncle who keeps forwarding you links from Infowars this Thanksgiving. But for a red-band trailer there really isn't that much profanity. The only bomb Bay is scared to drop here is the F-Bomb! Eh? Eh? Yeah? Yeah.
On the film's side is the script based Mitchell Zuckoff's bestseller "13 Hours: The Inside Account of What Really Happened in Benghazi", which was well-received by critics. On the other hand, Bay's last shot at adapting a thoroughly-reported non-fiction story resulted in Pain and Gain, a Fargo for meatheads that failed to find much of a critical or commercial audience, though it's worth watching if only for Dwayne Johnson's turn as a cocaine addict with a heavy conscience.
13 Hours: The Secret Soldiers of Benghazi opens January 16.