This EV Upstart Wants to Topple Tesla's Model S Plaid
Zeekr might not be a name brand yet, but that hasn't stopped it from eyeing Tesla's top spot.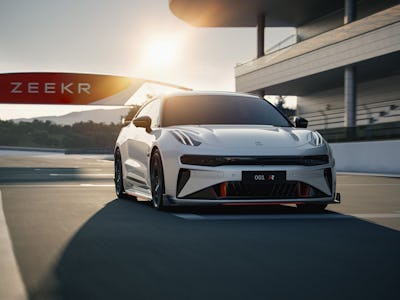 Zeekr
Tesla is getting competition from all corners of the EV market, and now it's the Model S Plaid's turn to feel the heat.
Zeekr, a Geely-owned brand out of China, recently tweeted a teaser for an upcoming 0001FR high-performance electric sports car. In case you had any doubt about which brand Zeekr is after with its next electric installment, an accompanying caption makes the target pretty clear.
Though Zeekr has only been around as a brand since 2021, the automaker has already released a sedan, the 001, and a multi-purpose vehicle, the 009. Now, with those EVs out into the world, it's ready to push into the luxury sports car segment.
While we still don't know much about the new model, according to Reuters, the 001FR, as it's been dubbed, could be released within the next few weeks. As for price, Zeekr is reportedly targeting an MSRP of $140,000.
That should slot it in nicely between its main competition, Lucid's Air Sapphire and Tesla's Model S Plaid, which start at $249,000 and $108,490, respectively. The true test, however, will be how it stacks up to those competitors performance-wise — and on that front the bar is high.
Lucid recently said its Air Sapphire boasts a neck-breaking acceleration of 0 to 60 mph in just 1.89 seconds. Tesla's Model S Plaid does the same in two seconds.
On one hand, it may seem outlandish for an upstart to actually challenge Tesla's dominance in any EV category, but it's worth noting — for those unfamiliar with Zeekr — that it's owned by Geely which also owns the more recognizable Volvo and the newer EV entrant Polestar. Not a bad backbone if you're trying to encroach on Tesla's top spot.
There are still quite a few unknowns before we can call the 001FR competition, but with China's automakers slowly but surely gaining a leg up in the EV world, both Tesla and Lucid may have a new formidable rival.