This All-Electric Sports Car Is a Lightweight Beast
The Caterham Project V weighs around 2,623 lbs and goes from 0 to 60 mph in less than 4.5 seconds.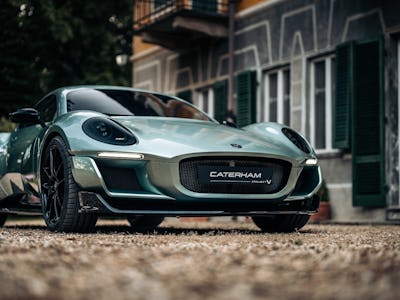 Caterham
While EV makers are busy trying to break speed records, Caterham is perfectly content with working on a lightweight and minimalist sports car. The British automaker is known for its stripped-down race cars and its ties to Lotus, but has decided to take its experience and translate it into a three-seater coupe called Project V.
Caterham doesn't currently have any EVs under its belt since its lineup mostly revolves around its various Seven models.
CARBON FIBER CHASSIS
Caterham says it'll design the Project V as a three-seater, but will offer the option of a four-seat configuration. The sporty EV will weigh around 2,623 lbs thanks to its carbon fiber and aluminum composite chassis. For reference, that's exactly 100 lbs lighter than the 2011 model of the Tesla Roadster.
Powered by a single 200 kW motor, the Project V will go from 0 to 62 mph in an estimated 4.5 seconds and top out at 143 mph. The Project V will be built with a 55 kWh battery, which Caterham expects to allow for a WLTP-estimated range of 249 miles. It'll only take 15 minutes to charge from 20 to 80 percent if you're using a DC fast charger. These certainly aren't record-breaking specs, but they're enough to make for a decent alternative to the first-gen Tesla Roadster.
Caterham says the Project V will have Normal, Sport, and Spring driving modes that will adjust the acceleration and steering depending on the scenario. Inside, the Project V features a minimalist dashboard with several driver-centric dials and a modest touchscreen in the center.
EARLY DEBUT
We're still a couple of years out from Project V's release, but Caterham says it could happen in late 2025 or early 2026. While it may be too early, Caterham is aiming for a starting price of less than £80,000, or around $104,000. We will get an early look at the Project V since Caterham is debuting its EV at the Goodwood Festival of Speed.
Since most EV makers are focused on delivering more practical models, like a crossover or mid-size SUV, there aren't many existing options for an all-electric coupe. Even though Caterham isn't exactly a household brand for EVs, it could win some favor in a market that's limited to options like Porsche Taycan or the Audi e-tron GT.