Microsoft's Xbox Series X Wraps Customize the Console in Seconds
They're way easier to put on than a traditional skin.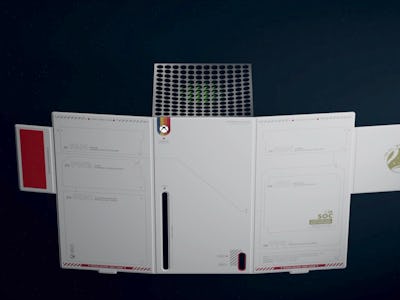 Xbox
If you're tired of your Xbox Series X just looking like a black box, Microsoft has some official wraps to customize your console into something that's a little more eye-catching.
There's no shortage of third-party skins from companies like dbrand that can dress up your Xbox Series X, but Microsoft's is easy to take on and off and doesn't require much precision. The Starfield-themed wrap gives the console a sci-fi makeover, while the two camo options are more artsy.
While Microsoft has done limited-edition design collabs like those 75th Anniversary Porsche Xboxes, these wraps are more accessible. I'd bet money that Microsoft does future collabs with Xbox-exclusive titles like Halo, Forza, or Gears of War.
Sony offers different colored PS5 covers and there are Spider-Man 2-themed plates coming on October 20. Microsoft is just evening the customization options for Xbox gamers.
Installs in Seconds
For now, we get an official Xbox Series X wrap themed after Bethesda's highly-anticipated space exploration RPG Starfield. The wraps use solid core panels and have high-tech fabric finishes. There are no screws or adhesives ued since you just wrap the cover around your Xbox Series X and secure it with a Velcro enclosure. The wrap has a silicone interior to keep it from slipping around, but it can still be taken off easily.
The Starfield wrap features the game's retro-futuristic styling that Bethesda describes as "Nasapunk." Even if you aren't looking forward to Starfield, you have to admit the aerospace diagram detailing and space shuttle-white color gives it a clean look. If you're not into the whole aeronautics look, Microsoft has two simple woodland camo designs in Mineral Camo and Arctic Camo.
With the official wraps, you can match your swanky Xbox Series X with controllers that share the same theme. For the Starfield wrap, Xbox did both a limited-edition controller and headset. The Starfield wrap may not come out in time for the game's release on September 6, but at least the controller and headset are already out.
Up for Preorder
The Starfield-themed wraps are due to release on October 18 for $50, but the camo designs will cost $45 and be released on November 10. The Starfield wrap will be available to U.S., Canadian, and European customers. The Arctic and Mineral Camo will also come to the U.S. and Canada, while Europe will get the Mineral Camo but not the Arctic Camo wrap. All of the wraps will be available for preorder on the Microsoft Store.