Limited-Edition Xbox Series X Consoles Are for Porsche's Biggest Fans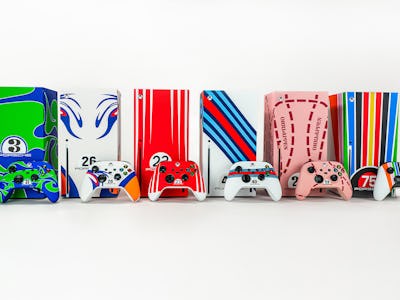 Porsche
If you're a Porsche fan and you like Xbox, you're going to love these limited-edition Xbox Series X consoles made to celebrate the automaker's 75th anniversary.
Each Xbox Series X is done up in an iconic Porsche colorway. From the Porsche 911 GT1 that won the 24 Hours of Le Mans in 1998 to the current Porsche 963 that's decked out with a 75th-anniversary race livery, each custom Xbox console throws it back to "some of the most iconic ones that our fans will recognize from notable victories over the years," according to Ayesha Coker, VP of marketing, at Porsche Cars North America, Inc.
Here's the breakdown of the custom paint jobs:
Porsche 911 GT1 won 24 Hours of Le Mans in 1998.
Porsche Hippie was a race car unlike any other. It was adorned in deep blue and bright green "hippie" colors.
Porsche Pink Pig was a pink race car. Pink? Yes. Covered in butcher-style cuts. It's a race livery that gained cult status.
Porsche Salzburg gave Porsche its very first overall win at Le Mans.
Porsche Racing Edition is often referred to as the white whale (or Moby Dick) because of its huge tail.
Porsche 75th is the current race livery on the 963.
The 75th-anniversary Xboxes come with matching controllers. Otherwise, they're the same Xbox Series X that Microsoft has been shipping since 2020. You get the same 4K Blu-ray optical drive, the same 8-core AMD Zen 2 CPU, the same AMD RDNA 2 GPU with 12 teraflops of power, and the same 1TB of storage. Also the same: it supports storage expansion cards from Seagate and Western Digital. No word on whether they ship with any custom home screen wallpapers like on past limited-edition Xboxes.
As for how you can get one of these special consoles... you won't be able to walk into a Best Buy and pick one up. Porsche says the six Xbox Series X consoles will be made available in a sweepstakes open to U.S., U.K., and Germany running from June 8 to October 1. Good luck?
I'll shut up now and let you do what you came here to do: ogle the Porsche Xbox consoles. Enjoy!